SANJAY'S HOLD DEM BRINGS THE SUMMER HEAT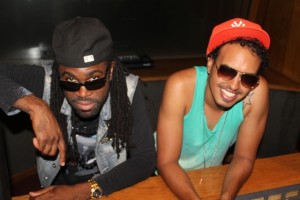 Fresh off the debut of his RRRICH Mixtape, ace lyricist Sanjay has joined forces with top flight producer Kirkledove to drop his summer scorcher Hold Dem.
Bringing the heat, the track, which was released earlier this week, is creating heightened excitement in the dancehall.
Coupled with that Sanjay has launched a Hold Dem body competition on his facebook page where fans can win J$20,000 dollars by posting their Hold Dem pics and voting.
Sanjay says the Hold Dem song and competition is his way of showing appreciation to his female fans, "I wanted to do something for my female fans that would be fun and entertaining while giving them a chance to show off their Hold Dem bodies. The song is getting tremendous reception in the streets and there is excitement at the competition with many saying they want to win the $20,000".
Kirkledove for his part says the song has come about because of the immense respect he and Sanjay have for each other as artistes. "Sanjay is great to work with. He is a talented artiste and the musical chemistry was wicked. Hold Dem is a good product of our collaboration. I was actually in Europe on tour working on a drum machine and as soon as I made a couple kicks I said to myself that this has to have Sanjay on it. The song has turned out very well and the streets love it"
According to Sanjay the collaboration with Kirkledove will continue as the two are constantly trying out new styles and dancehall flavours. He says with the added buzz from the Hold Dem Body competition, he expects the song to have a good run as the summer gets hotter.