SandMan Dishes Jab Jab Vibes on "Donkey In De Cane"
Alix "SandMan" Aird dishes native Grenadian vibes on his new jab jab anthem "Donkey In De Cane," now available worldwide from all major retailers (released June 17, 2016), from FOX FUSE. The smash was produced by Grenada-based Mash Works Productions and was produced for the 2016 Spicemas season – Grenada's annual carnival, which is currently underway.
Grenadian hit-maker SandMan has been crafting tunes for years now, both as a producer and performer, for his own production house Aquarion Studios. He dons his artist cap for "Donkey In De Cane," and joins forces with Mash Works Productions for the infectious tune. Backed by The Meter Riddim, the provocative track was penned by SandMan, who narrates the story of a Jab Jab who is up to mischief, while revealing the "real" use of a Jab's signature horned helmet.
"Donkey In De Cane" is burning up airwaves and playlists in Grenada as Spicemas fever takes over the island, and now spreads those jab jab sounds to the global masses with its international debut.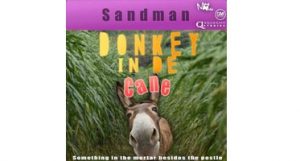 Please direct all press inquires to the FOX FUSE Publicity Department at 1-212-300-3813 or contact@foxfuse.com.