Rizon Elevates Us to a 'Higher Level' (Music Inside)
RIZON ELEVATES US TO A
HIGHER LEVEL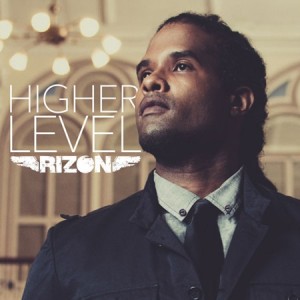 New York, NY – Gospel reggae sensation Rizon debuts his sophomore studio effort Higher Level, available worldwide from all major digital retailers on March 10, 2015, from FOX FUSE. Born in Port of Spain and currently based in Trincity, Trinidad, Shane "Rizon" Gibson has been making major waves in the Gospel reggae world for some eight years now, and the consistent popularity and demand for his music globally sparked the production of this new album. Proving his fanfare, Higher Level debuted at #2 on the iTunes Trinidad and Tobago Reggae chart, during its first week of pre-order.
Blessed with 14 Gospel reggae gems, all of which were penned by Rizon, Higher Level lives up to its title with every tune. "I poured my heart into the songs on this album and I believe each one of these tracks will be a tremendous blessing to you," Rizon reveals.
His singing and songwriting talents shine on this beautifully-crafted collection of new Gospel classics, especially on title track "Higher Level" and new hits such as "Whole Day (24 hours)" and "I'm Free." Rizon also teams up with Caribbean music heavyweights for its composition, including producers Richard "Charsu" Ahong, Kasey Phillips of Precision Productions, Daniel Bishop, Joel Prince, Reuel Lynch and Sherwin Gardner.
Rizon's music presents Spirit-led messages packaged in sweet Caribbean music – soca, reggae and dancehall fused with international flavors that all combine for mass appeal. His music reflects his deepest convictions and moves his listeners, musically and spiritually. The album was officially launched on January 31, 2015 in Trinidad, where over 900 fans joined Rizon and friends for a night of praise and worship, and a concert to introduce Higher Level to longtime and new supporters.
Taking just over a year and a half to produce, Higher Level solidifies Rizon as one of the ambassadors of the Gospel reggae genre, globally. "This is a very personal album to me, it gives insight into my own journey to this beautiful place I am currently at – a Higher Level," states Rizon.
For more information on Rizon, follow his mission at facebook.com/rizonmusic, twitter.com/rizonmusic, instagram.com/rizonmusic and youtube.com/user/RIZON001. Please direct all media inquiries to the FOX FUSE Publicity Department at 212-300-3813 or contact@foxfuse.com.
TRACK LIST
1. Intro 2. Higher Level
3. In the Son
4. Rain Down
5. Whole Day (24 Hours)
6. Sincerely
7. Making Decisions
8. I am a Fire
9. Interlude
10. Taking It Back
11. I'm Free
12. I Believe
13. Love Yah
14. Making Decisions (Acoustic)