Rihanna Tops Tropicalfete CountDown with "Man Down"
New York, NY December 25, 2011: Steel Pan was the focus at an international event – Tropicalfete Countdown 2011 Top 100 International Caribbean Songs for the year. Ricardo Greenaway world-renowned steel pan percussionist was given the mountainous task of performing the top 5 songs for this year on steel drums; which he did to perfection. 1. Man Down by Rihanna, 2. On the Floor by Jennifer Lopez ft Pitbull, 3. Summer Time by Vybz Kartel, 4. Wotless by Kes Band and 5. Advantage by Machel Montano. Mr. Ricardo opened up his set with last year's number one song, Gyptian's "Hold You". According to Brittany Somerset, Ricardo's renditions of the songs were "flawless." Sallyann Lares stated that she was "boiling with pride that the national instrument of her country Trinidad and Tobago was in the spotlight." "I love the idea of having a music chart that unites all the Caribbean musical genres as well as the music in the diaspora" said Rondel Joseph.
An import component of Tropicalfete Countdown is presenting Tropicalfete's Award of Excellence to a person and/or organization that have had a roll in the development of the Caribbean Community. The achievement of this year's awardee, Journalist Patricia Meschino, is significant on an international level. Her work has a positive impact to the Caribbean community, putting Caribbean culture on the pages of main stream publications such as Billboard Magazine, Air Jamaica's In-flight magazine, SkyWritings. Additionally, she contributes to Bobmarley.com, Riddim magazine, The Associated Press, The Village Voice, Vibe Magazine, The Source, The Miami New Times, Caribbean Travel and Life Magazine, Sandals Lifestyle Magazine, Red Bulletin (Holland) and Songlines (UK). In her acceptant speech Patricia said that her work of twenty plus years is a "labor of love." She also said that it is "imperative that Tropicalfete document the top 100 songs for the year."
Master of ceremonies Miss Caribbean U.S. Paula Leake and Omari Ozwald Peterson did a remarkable job of keeping the show flowing. The show got started with the hosts reading out the names of persons involved in the arts that passed away in 2011. Conqueror/Conquie (Leroy Paul) of TNT – 27th January, The Mighty Striker (Percival Oblington) of TNT – 05th February, Carolyn Forde (Tassa) of Barbados – 09th February, Thomas Peter (Chippy) of St Lucia – 07th March, Gregg Van Gurp (Mighty Gregg/Snoppy) of St Maarten – 04th June, Neville McIntosh (Jeweller) of TNT – 31st August, Jeff Elva (The Mighty Pelay) of St Lucia – 28th September, and Joel Chin – VP Producer fatally shot in Jamaica on the 16th of August.
Comedian Sherwin XL opened up the performances, followed by Tayazawan. Tayazawan performance was received with thunderous applause. Veteran reggae artist Ardie Cuban Wallace delivered a stellar performance. Soca artist Trinity pleased the audience with his melodic vocals and dancing during his set. Traci Marie and Friends came on stage with one aim- to entertain the audience with their positive energy. They did not disappoint in their goal. They had the audience singing and dancing along.
Tropicalfete's program Musicians Mentoring Musicians was introduced at the event. The program partners up talented and accomplished musicians with aspiring musicians to nurture and teach them various types of musical instruments, as well as providing these fledging musicians with a more in-depth and honest look at the industry, so they will gain deeper insight into who they are as artists. The program also seeks to collect donated instruments to be placed in public space and/or be given to individuals unable to afford an instrument. A preview of Tropicalfete Carnival Costumes for 2012 was also showcased at the show.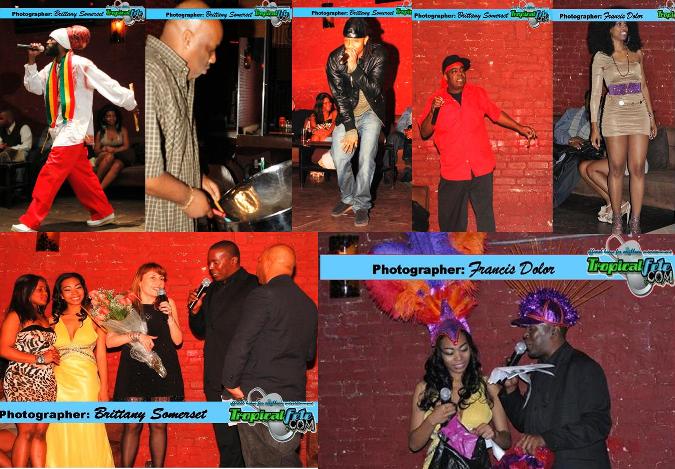 Top 100 international Caribbean Songs for Tropicalfete 2011
1 Man Down – Rihanna
2 On the Floor – Jennifer Lopez ft Pitbull Lyrics
3 Summer Time – Vybz Kartel
4 Wotless – Kes Band
5 Adavantage – Machel Montano
6 Delilah – Mavado
7 Demarco – I Love My Life
8 SugarCane – Shaggy
9 Rasta Love – Protoje featuring Ky-Mani Marley
10 Fly – Nicki Minaj featuring Rihanna
11 Taking You Home – Romain Virgo
12 Go Dong by – Lil Rick featuring Machel Montano
13 Trini – Benjai
14 Life – Mr.Vegus
15 Settle Down – Mavado
16 Lovumba – Daddy Yankee
17 Ah Ting – Kes The Band & Kerwin Du Bois
18 Dance and Dingolay – Denise Belfon
19 Got To Luv Ya – Sean Paul & Alexis Jordan
20 Bend Over – Machel Montano
21 What's My Name – Rihanna
22 Feel Like Wukkin – Destra
23 Never Leave I – Tarrus Riley
24 Ah Coming Again – Machel Montano
25 One By One – Laza Morgan & Mavado
26 Se Me Va La Musa – Osmani Garcia ft. Tolerencia
27 Super Base – Nicki Minaj
28 Cool it Down – Destra
29 Kote Moun Yo – BelO
30 Head Nice – Yankey Boy
31 Just Another Girl – Shaggy feat. Tarr Riley
32 Taboo – Don Omar
33 Motorbike – Shal Marshall
34 Mwen dézole – Carimi
35 Carnival Jumbie – Blaxx
36 Destiny – Gyptian
37 I'm A Bajan – Rupee
38 Like I See It – Jah Cure, Rick Ross & Mavado
39 Say Hello To Goodbye – Shontelle
40 Panamiur – Arcangel featuring Daddy Yankee
41 Nuttin Undah – Lyrikal
42 Every Gyal – Chipmunk Feat. Mavado
43 Playback – Collie Buddz
44 Wild and Free – Ziggy Marley
45 Lighters – Tall Pree ft. Nadia Batson
46 Outta Control – Gregory Ayuen
47 Girls Dem Love We – Shaggy Feat Mavado
48 Hear My Cry – Demarco
49 Tun Up – Khago
50 Violate – Ragga
52 Peper – Movado
53 My Master Will – Israel Vibration
54 Touch Road – Busy Signal
55 Energia REMIX – Alexis y Fido ft. Wisin y Yandel
56 Drunk Man – Tallpree
57 Bien Comodo – Daddy Yankee ft. Jory, Guelo Star, J Alvarez & Various
58 Personal Revolution – Ziggy Marley
59 Mother Earth – Jah Cure
60 Wine To The Side – Benjai
61 Consider It Done – Fay-Ann Lyons
62 Terminalo (Ella Me Pidio) – Tony Dize
63 Rabiosa – Shakira ft. Pitbull
64 Hold a Burn – Bunji Garlin
65 Confidence – Nebula868
66 Liquor Store Blues – Bruno Mars ft. Damian Marley
67 Pressure – Faye-Ann Lyons
68 Moving On – Reggae 2011 – – Etana
69 Times Like These – Queen Ifrica
70 Indian Gal – Ricky T
71 My Number One – Gyptian – Gregory Isaacs Tribute
72 Et toi Moi – T-vice
73 Tante Woi – Blaxx
74 Nah Wash – I-Octane
75 De Islands – Deyvn Feat Lyrikal
76 Nah Let Go – Gyptian Ft Alison Hinds
77 Este Habana – Subelo
78 When I'm With You – Da'Ville
79 Run Di Riddem – 3 Canal
80 When You're – Ce'Cile
81 All Of Yuh Body – Skinny Fablous
82 Dejalo Todo Atras – J Alvarez
83 Mmmm Mmmm – Ziggy Marley
84 I've Got It – KO Chicks
85 Give Him – Patrice Roberts
86 Drop It – Mr. Dale
87 Janja Weed – Taj Weekes
88 Pume It Up – Orlanddo Octave
89 Epim Pa Bon – T-Vice
90 Earthquake – Wyclef Jean
91 Pressure Waist – Tian Winter :
92 Hold On – Alison Hinds
93 Charge Up – Skinny Fabulous ft Machel Montano
94 I Am Rich In Love – Romain Virgo
95 Party Cyan Done – Bunji Garline & Problem Child
96 Fettin For Days – Michelle Xavier
97 Wisin y Yandel – Tu Olor
98 Come To Meh – Iwer George
99 Loving You – Etana Ft. Vybrant
100 Town Ting – Cassi