REGGAE CROONER WRAPS PRODUCTION OF MUSIC VIDEO IN BRAZIL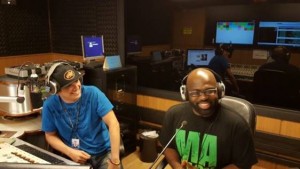 REGGAE CROONER WRAPS PRODUCTION OF MUSIC VIDEO IN BRAZIL
Brazil: Award winning reggae singer Richie Stephens has just wrapped production of a new music video for his single 'Knock Knock Knock' in Sao Luis, the capital and largest city of the Brazilian state of Maranhao.
The success of the song in Brazil inspired the singer to shoot the video with a local production crew. The video is currently being edited and will be available soon.
Prior to embarking on a mini tour of Brazil, Stephens got word that 'Knock Knock Knock' was a massive hit there. But as the old Chinese proverb says 'Hearing a hundred times is not as good as seeing once' and the proof was revealed when he arrived in Sao Luis for the first time on August 6th.
"I was pleasantly surprised by the popularity of the song and how it had taken off on its out strength" the singer gushed.
"I could not believe fans recognized me everywhere I went. They obviously had heard the song but only seen my picture on Facebook and youtube. I went to a couple of parties and when they played the song, oh my…everybody start dancing and singing word for word. The response was amazing" he said.
He later confessed that he was so overwhelmed by the experience that when he got to the hotel he shed a few tears.
"These things don't happen to you everyday so I thanked father God for my blessings. Tears came to my eyes" he said.
On his arrival in Brazil, he was whisked off to Rádio Mirante, FM 96.1 in Sao Luis to do an interview with radio jock Waldiney who was the first to play the song on the radio.
"I have to thank DJ Waldiney from Reggae Point radio for making the song a massive hit in Brazil. He is one of the top radio jocks and the first to play it on radio here. I have to big him up in a special way" the singer noted.
While in Brazil, Stephens headlined four shows – two in Sao Luis and two in Belem, the capital and largest city of the state of Para.
"It's a very big song here in Brazil and that's the reason we booked him for this tour" concert promoter Maria Riana said.
"The turnout for the shows was much better than expected. In some places we were able to pull 3,000 patrons. In other places, 4,000 people came to see Richie alone. Its really worked for every one involved" she reiterated.
Asked about the success of 'Knock Knock Knock' in Brazil, when it is hardly played in Jamaica, Stephen explained, "For what I have observed, reggae music from the 70's is what they love here in Brazil. They are into singers like Gregory Issacs, John Holt, Jimmy Cliff and Dennis Brown. 'Knock Knock Knock' has a taste of that smooth 70's sound. In fact it was recorded on that 70's rhythm that Horace Andy recorded 'Love Of A Woman' which is popular here. It may creep up on Jamaica like what OMI did with 'Cheerleader'" he said.