Precision Productions releases We Muzik Vol 5 for the Trinidad and Tobago 2014 Carnival Season!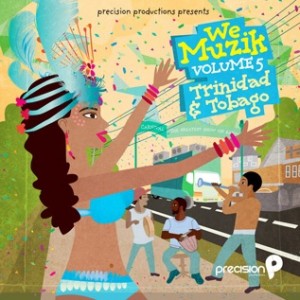 From Soca Royalty, to much-loved stars, and even exciting newcomers, the Precision team has consistently kept its fans on their toes at the end of every Carnival season, in breathless anticipation of a collection of music that can be enjoyed all year round.
This year, We Muzik, Vol 5, Trinidad and Tobago, not only lives up to, but also surpasses all of those expectations.
Double Monarch holder Machel Montano, appears along with Queen of Bacchanal Destra Garcia, in addition to such talented artists as Blaxx, Kees Dieffenthaller, Isaac Blackman, Nadia Batson, Patrice Roberts, Lyrikal, and Lil'Bitts.
Also featured on this release are two of the most popular acts in the region, Mr. Killa and Skinny Fabulous, as well as the amazing Dancehall performer, Aidonia, who makes his debut in the Soca arena on the hit-filled Sun Dance Riddim.
Radio personalities 5Star Akil, Jaigá, Devon Matthews, and Sekon Sta keep the energy flowing and lively on this compilation with their single songs alongside their crowd favourites on the Sando, Emergency, and Sun Dance Riddims.
Not to be left out, newcomers Preedy and GBM Nutron, (already a well respected producer in his own right) successfully transition from soca-writers extraordinaire to bonafide soca-artists on this very album, which also includes the top Road March contenders M.O.R, Mash Up, and Run To D Front.
Available right now! Make sure to get your CD in store or at all major digital distributors!