Positive Shines Light on Gospel Reggae with New Album, 'Stand And Be Counted' (Music Inside)
POSITIVE SHINES LIGHT
ON GOSPEL REGGAE WITH NEW ALBUM,
STAND AND BE COUNTED
Album Debuts at #1 on iTunes Trinidad and Tobago,
and at #25 on iTunes U.S.,
Now Available Worldwide from FOX FUSE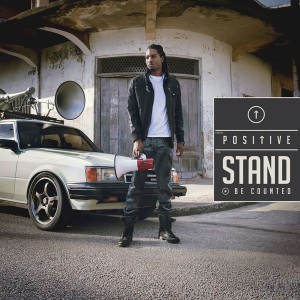 New York, NY – Gospel reggae star Joel "Positive" Murray shines light on the niche genre with the release of his third studio effort Stand And Be Counted, now available worldwide from all major digital retailers (released on May 5, 2015), from FOX FUSE. Hailing from the twin island nation of Trinidad and Tobago, Positive has earned his reign at the forefront of Gospel reggae as a triple threat – an extraordinary singer, prolific songwriter and genre-bending producer. Stand And Be Counted showcases his seasoned vocals, lyrics and production skills as his divine talents shine on its 15 glorious tracks.
The album debuts at #1 on the iTunes Trinidad and Tobago national Top Albums chart and bows at #25 on the iTunes U.S. Reggae Top Albums chart, on its day of release. It is also featured on the iTunes U.S. Reggae section, receiving a top banner on the Reggae page, along with being selected and listed in the New Music chart, thereby placing the international spotlight on this inspirational artist.
"Standing for the Lord, which is being echoed in the title track of the album, is the theme for the album," reveals Positive. "We live in a time where the days are evil and we want to represent God in all that we do. I am determined to stand till the end and be counted with the body of Christ. I pray that this album motivates its audience to make a stand."
Putting a positive spin on reggae music, fused with contemporary Gospel and a tinge of dancehall, Positive has earned acclaim from music critics and fans alike, ever since hitting the music scene eight years ago. He was the most-nominated artist (13 nominations) and top honoree (eight wins) at the 2014 Caribbean Gospel Music Marlin Awards (held in Nassau, Bahamas in July 2014), where he received the top awards including Song of the Year for "Blessing After Blessing" and Album of the Year for Forever My King, released in December 2012 from FOX FUSE.
This heavenly collection of new Gospel gems brings a kaleidoscope of flavors, including some new ones for the captivating artist. Such diverse sounds are delivered with the likes of new pop anthem "All Over The World" featuring Jonathan McReynolds (which is co-produced by pop-reggae heavyweight producer Dwayne "Supa Dups" Chin-Quee), one-drop reggae on "Two Man Army" and "Notice Of Eviction," Afrobeat on "Identify," dancehall on "Rise Again" featuring DJ Nicholas (which was produced by Grammy-nominated producer Jason "J-Vibe" Farmer), EDM on "Man On Fire," soca and calypso on "Mighty Healer" and "Blessing After Blessing," and contemporary Gospel on "Mountain Mover," "Scars" featuring V. Rose and title track "Stand And Be Counted."
It sees production from stellar names in pop, Gospel, reggae and soca music, including aforementioned Grammy-winning Supa Dups and Grammy-nominated J-Vibe, soca heavy-hitter Precision Productions along with J Lab Pro and Deer Panteth Productions from Trinidad, and Barbwiya Music of Jamaica, all joining forces with Positive, who produced the majority of the album for his own imprint Bricksvale Records.
Two years in the making, the joyous collection is a musical ministry from this profound artist, with each song bearing testament to his faith as he spreads sacred messages to each listener, through rhyme and rhythm. "Our time to make a stand is now and we are not too young or too old to do so. Right where this album finds you, respond to the call to Stand And Be Counted."
Stand And Be Counted is now available worldwide, both digitally and physically. For further information on Positive, including upcoming tour dates, log on to PositiveTNT.com, and follow his musical mission at Facebook.com/PositiveTNT, Twitter.com/PositiveTNT and Instagram.com/PositiveTNT. Please direct all press inquiries to the FOX FUSE Publicity Department at 1-212-300-3813 or contact@foxfuse.com.
TRACK LIST
1. Intro
2. Stand And Be Counted
3. Two Man Army
4. Notice Of Eviction
5. Identify
6. Encounter
7. Scars Featuring V. Rose
8. Mighty Healer
9. Blessing After Blessing
10. All Over The World Featuring Jonathan McReynolds
11. Lift The Praises
12. All of My Heart
13. Rise Again Featuring DJ Nicholas
14. Man On Fire
15. Mountain Mover