Natasha Von Castle Speaks at the United Nations for the Women's Empowerment Conference 2014!
Natasha Von Castle, Editor-in-Chief of L3 Magazine, marks International Women's Day 2014 with a speech to delegates at the Women's Empowerment Conference (March 6th, 7th, and 8th) hosted by Africa to America LLC at the United Nations.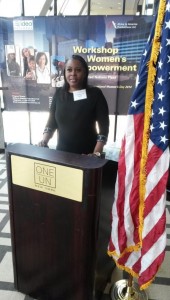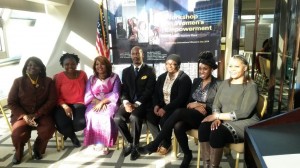 Using the theme of 'Inspiring Change,' Natasha shared her story of beginning her journey in Toronto, Canada, and making a change in her community of Reggae and Caribbean culture, by developing an internationally respected monthly publication that celebrates the best in Music, the Arts and Entertainment; the ripple effect to that change are the women who have a platform to express their talent in journalism and graphic design. "I knew I could make a difference, and I always aspired for my difference to be on an international level. We have a lot of success stories, and I want L3 Magazine to be a conduit for those stories to be told" said Natasha. Moving forward towards new goals, Natasha continued "Everything we need to achieve success with our goals is right here in this room, and I look forward to continuing my work with women in the international community and sharing their stories as we continue to transform our dreams to reality."
In addition to Natasha Von Castle, esteemed women, Dr. Cheryl Hill (President, Integrity International Consulting Group), Dr. Remi Alapo (United Nations representative for GEFAI), Lucy Kanu (CEO of Idea Builders Initiative), Beryl Green (Chairwoman, New York Metro Chapter for Women's Federation for World Peace), and Ijeoma Opara spoke to delegates about their individual and organizational work, and how the world will benefit when all parties work together. "We are in a unique position to collaborate" noted Dr. Cheryl Hill. "Our collaboration will ensure that we continue to make changes in our communities. We have the platform to do it, and we're getting it done!"
At the conclusion of the conference, speakers and delegates joined Madam Yoo (Ban) Soon-taek – Wife of the UN Secretary General, Ban Ki-moon, Muna Rihani Al Nasser, Chair, UN Women for Peace, Naomi Campbell, Trudy Styler, and more than 400 women and men on a march that ended with encouraging speeches regarding gender equality, and a call to end violence and abuse against women. The march, organized by UN Women for Peace, was sponsored by UN Women, a major new agency that consolidates the advocacy for women's rights and gender equality. Their campaigns include Unite to End Violence against Women, Stop Rape Now and Network of Men Leaders. Within the UN itself, the Secretary General has increased the number of women in Senior Management positions by more than 40% reaching the highest level in the Organization's history.