Machel at The Carnaval Tropical in Paris, France
Five days of media interviews and 2 electrifying performances have the French Caribbean community in Paris all talking about Machel Montano! The Carnaval Tropical of Paris invited Machel this year as their guest of honor.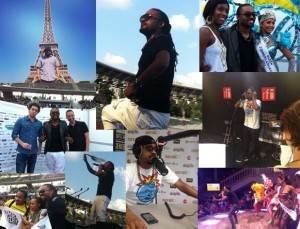 Machel's French label, Universal France, seized the opportunity for him to make the rounds of targeted radio stations as they release his first single in France: Mr. Fete featuring Matt Houston and Kulu G. Machel did in did interviews not only on some of the main radio stations for the French Caribbean community such as Tropiques FM and Espace FM, but also hit some of the stations focusing on youth and hip hop: ADO, Generations, Radion Latino…and the second biggest radio network in the world: RFI, Machel did playbacks and drops for the DJ's and the response was extremely positive. The single is already playlisted on Tropiques FM!
The Carnaval Tropical began with a street parade through Paris, where the groups march to the sounds of music, be it live musicians or small DJ trucks. All the bands have choreography and many countries were represented. The live performances were of the wall. With DJ Young Chow from Brooklyn, New York, Machel first performed at a packed Parisian night club, Le Palacio. Trinis from all over Europe (Geneva, Brussels, London, Rotterdam….) made the trip to see soca star. With his typical high energy performance, he had all the Caribbean jumping and singing along to his hit songs, those who didn't know him or had never seen him perform were all raving after and wanting to know when they could see him perform again. The next day, the Carnaval Tropical closed with a parade in the Stade Chariety, Again, Machel and DJ Young Chow, whipped the crowd into a frenzy, with everyone wining, jumping and waving their hands.
Representatives from the record label, were at the stadium and they were amazed by the crowd's reaction and love for Machel. The plans are for a full album the release of the single for which a video will soon be shot, and getting Machel to touch more mainstream France. It was a very encouraging first visit and the hype has started as Mr.Fete French remix looks to be one of the French Summer hits!