Luciano "The Messenger" Closes MIRF's Milestone Celebration That Also Features Free Workshops
In preparing for its 10th anniversary celebration the Montreal International Reggae Festival (MIRF) is making huge efforts to appease loyal patrons. In so doing MIRF added Luciano to the Sunday night roster at the Old Port of Montreal, where the festivities roll out on August 16, 17 and 18.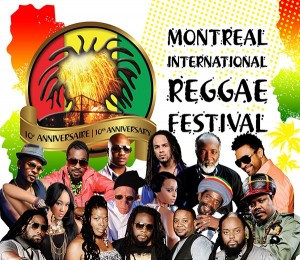 Regrettably, in a surprising message, Takana Zion announced his inability to tour this summer and will not be appearing at MIRF 2013. Previously slated to perform on MIRF's opening night, Takana Zion will leave no void, as Morgan Heritage, Chris Combette, Inword, Downtown Crew, Brian Art and Hawkeye are scheduled to kick off this significant MIRF staging on Friday August 16.
The previously announced workshop series will take place on August 14, 15 and 16 at O Patro VYS, 356 Mount Royal E; and admission is free. Workshops will commence on Wednesday, August 14 from 6:00 to 9:00pm with Hélène Lee presenting her film Le Premiere Rasta; discussing 'The Origins of the Movement". On August 15 from 6:00 to 9:00pm a second workshop will be led by Roger Steffens with a focus on "The Reggae World – Spreading Out" and on August 16 from 4:00 to 6:00pm Pharaoh Freeman and Hidden Colors will present "Empowering Our People" The value of a powerful self-image.
Saturday's formerly released featured artists remain as: Ras Out, Dahlia, Tifa, Mr. Vegas, Kes The Band, Beenie Man and Shaggy; and on Sunday Luciano is back by popular demand. Known also as 'The Messenger' Luciano will join the headlining: Jah Cutta, Yellowman, Serani, Alaine, Coco Tea and Freddie McGregor to cap the three days of Reggae revelry.