LISTEN: New Song – Jamaica (Chi Ching Ching) x U.S. (Fatman Scoop) x Nigeria (Patoranking) x Ghana (Stonebwoy)
The FADER Premieres "Stadium Ready Instructional Dancehall Song for Your 2018"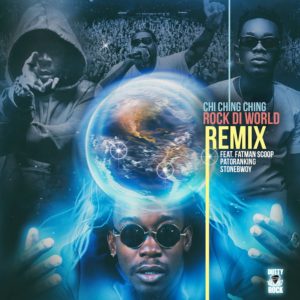 (L to R: Stonebwoy & Chi Ching Ching on the set of video shoot.)
Dropping pins all over the map, Jamaican dancehall artist Chi Ching Ching connects with U.S. hip hop icon Fatman Scoop, Ghanaian vocalist Stonebwoy and Nigerian star Patoranking on his new remix for "Rock Di World." The song drops this Fri. Feb 9 via Dutty Rock / DubShot Records. Chi Ching Ching is the first artist signed to Dutty Rock Productions, the label owned and founded by multi-platinum music icon Sean Paul.
The remix will also be featured on Ching's 2018 debut album Turning Tables along with the original "Rock Di World," which has already accumulated over half a million video views, sparking a viral dance craze.
Chi Ching Ching says the remix "is an inspiration of a song, meant to bring unity and people together. My mission is to make people happy."
Fatman Scoop tells The FADER, "I loved working with Ching. I met him on the road when I was doing R&B Fridays in Australia with Sean Paul. Immediately, I recognized that this guy had star potential and vibe. I just wanted to be a part of something he was doing and we went to the studio to work on some records and this remix is one of them." 
Following Fatman Scoop's Clap Your Hands Now remix for Sean Paul's 2003 "Get Busy," the iconic hype man comes full circle on this record with the Dutty Rock family.
A video for the "Rock Di World (Remix)" has also been shot in Kingston, Jamaica and will drop later this month.
Chi Ching Ching
Chi Ching Ching cements his reputation as one of the hottest dancehall stars, combining his performance strengths through dance and vocal performance. The 6'7″ street dancer and lyricist became a popular face of Kingston's residential party nights such as Early Mondays, Passa Passa, Weddy Weddy, Dutty Fridaze and Hot Monday. As his dance moves became popular, he eventually started recording. His debut song "Lock Pon Di Ting" was released in 2014 followed by "Popcorn Pop." In 2015, Chi Ching Ching forged a relationship with Popcaan's Unruly Entertainment. The partnership led to some of Chi Ching Ching biggest tracks including "Kick Out,"  "Get There," "Way Up Stay Up (Remix)" ft. Beenie Man & Popcaan (rounding up 1m views) and his mega hit "Roast or Fry (Breadfruit)" (2.3m views). The Dutty Rock Productions team also gave Chi Ching Ching one of his first big breaks as an intro/outro cameo on the video for "Hit Em" by Farenheit featuring Sean Paul and Jigzagula. Chi Ching Ching collaborated on Sean Paul's 2016 dance anthem "Crick Neck" (racking in over 10m views). In 2017, he toured toured non-stop with Sean Paul while working on singles like "Rock Di World" in preparation for his 2018 album launch.