Kabaka Pyramid Makes Debut Performance In Brooklyn NY at City Parks SummerStage Festival
Making his debut performance in Brooklyn, New York, Kabaka Pyramid performed at City Parks, Summer Stage festival. CityParks Shows plays a central role in activating City Parks Foundation's mission to create vibrant and healthy urban communities through dynamic programming in parks for all New Yorkers. CityParks Shows brings hundreds of live music, dance and theater performances to communities throughout New York City's five boroughs. The SummerStage festival showcased Kabaka Pyramid, Third World, Barrington Levy alongside DJs Federation Sound and DJ Gravy.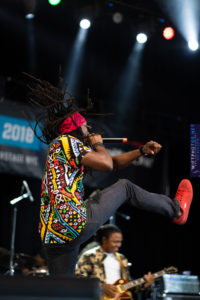 Kabaka Pyramid alongside the Bebble Rockers electrified the crowd on Sunday, July 8th at Coney Island, Ford Amphitheatre, giving patrons a performance filled with roots reggae, dancehall and some hip hop flavor as well. Performing hits like "Never Gonna Be a Slave", "Warrior", "Capitalist" and "Mi Alright" it was evident the crowd was familiar with his catalogue. During the performance Kabaka also gave a tribute to dancehall alongside his back up singer, Niccoleen Brown, who gave an exceptional rendition of Sister Nancy 'Bam Bam'. Kabaka showcased his admiration for one of his favorite artists as well, Sizzla Kalonji, which connected well with the jam pact audience.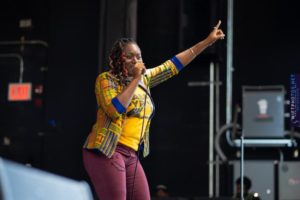 As the 45 minutes set went on, Kabaka would pull some major encore from the audience, especially during the performance of his recently released single featuring Damian 'Jr Gong' Marley, 'Kontraband'.  "Ive always been a Kabaka Pyramid fan from his hip hop days of 'Free Yourself', this is my first time getting to see him perform. Although he performed in New York City at SOBs, schedule would never permit me to take in a concert. As soon as I saw the SummerStage line up I made sure clear my calendar and I must say, his performance was not a disappointment. My new favorite track is 'Kontraband' two lyricist on one track straight fire" says Marcus Hillal of Queens New York.
Closing his set brought another encore as he stated we must bun out the dutty politicians dem and the audience roared as bebble rockers dropped "Well Done". Kabaka continues his Kontraband Summer tour, with next stop in Burlington Vermont. Kabaka Pyramid debut album, which debuted at #3 on iTunes Reggae Charts is currently receiving a lot of traction and garnering a lot of anticipation for his performances throughout US and Europe.