Carnival lovers unite once again, with "Soca Gold 2018." The compilation, available for pre-order now and out everywhere May 25th, features a curated selection of the past year's biggest soca tunes that are sure to start a party wherever it's played. This announcement comes on the heels of Beach Road Trip Weekend (BRT Weekend) in Dominican Republic starting today, May 3-6th. VP Records is a 2018 sponsor and is proud to announce there will be Soca Gold themed parties and branded giveaways to celebrate and launch this year's epic compilation.
The two-disc CD set includes exclusive tracks like "Big Bad Soca Remix" by Bunji Garlin featuring Shenseea and Tony Prescott's "Oil Drum." Other standout tracks include hits like Sweet Fuh Days" by Patrice Roberts, "Pull Up" by Alison Hinds and "Give it to Ya" by Marzville featuring Patrice Roberts. The second disc includes a mix by DJ Titan Boyaka Smash, the winner of the 2017 BRT DJ contest. Boyaka Smash will also debut live at BRT in the Dominican Republic this weekend.
This year's dual sided cover features models Tai'Aysha Thach (92K followers) and Naomi Davis (23K followers). Photographer Travis Matthews, Makeup Artist Jae Rich and creative directors Stephanie Chin and Christina Chin brought the heat, energy and everlasting passion of carnival to life with dewy, radiant skin and an ethereal, dream like theme mixed with PVC, vinyl, lace and latex styling.
Along with soca parties, the star-studded BRT lineup features the best of Jamaica's dancehall with Beenie Man, Ding Dong, Shenseea in attendance as well as Coopershot, Chromatic and other DJs. The 2018 BRT Weekend 2018 Tour also includes Atlantic City, July 12-15; California, September 13- 16; and the Florida Keys November 1 -4.
"As Soca becomes a more sought-after genre, we are excited to bring yet another solid set of songs for everyone to enjoy this carnival season," said Edwin Howell, A&R at VP Records and Program Director for Reggae King Radio. "The goal was to have an album that can be easily played from beginning to end, and we feel confident that was accomplished," he concluded.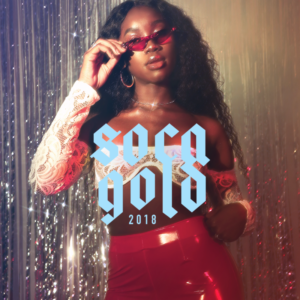 Soca Gold 2018 TRACKLIST
Sweet Fuh Days – Patrice Roberts
Go Ask Yuh Mudda – Bunji Garlin
Touch It – Fay-Ann Lyons
Savannah – Iwer George
Oil Drum – Tony Prescott
Big Bad Soca (Remix) feat. Shenseea – Bunji Garlin
Give It To Ya feat. Patrice Roberts – Marzville
Pull Up – Alison Hinds
Rude Waze – Lyrikal
Dip – Hypasounds
No Weapon – LFS Music
Sully – Ricky T
10 – Tizzy
She Bad (Remix) – Turner, Machel Mantano & Flavour
Barahee – Rikki Jai & Ravi B
Pick Me Up – Sanctuary
Feeling Good – Claudette Peters
Sweet Spot – Gorg
Disc 2
Soca Gold Booyaka Smash Mix – DJ Titan VD
2. Soca Gold 2018 Mega-Mix – DJ Sound-4-Life