JAH9 SPEAKS AT REGGAE INNOVATION AND SOUND SYSTEM CULTURE PANEL
The Reggae Gala featuring Sound System set by Rusty Rebel and Junior Quaker, and an Evening Sound System & Lounge Event with WASSIFA & Jah9 will be held next Wednesday April 4th.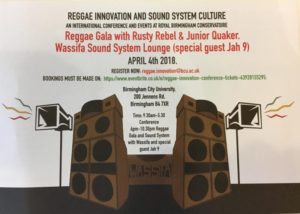 The all day event will include a conference by the Birmingham City University and The University of West Indies on reggae culture and sound system innovation.
These BCU events mark the first stage of a series of co-produced research and external engagement activities which will investigate music diversity, cultural innovation and visualisation.
Featured topics are Innovation through heritage, from mento to dancehall, Innovation for heritage beyond dancehall, Reggae musicians and innovation case studies, Reggae, music and gender, Reggae and the music industry; new forms, new marketing, new audiences, Jamaican and diasporic sonicities and more.