GROOVIN IN THE PARK 2013 ANNOUNCED FOR SUNDAY JUNE 30 AT ROY WILKINS PARK, NYC
Toots Hibbert, Barrington Levy, Queen Ifrika and Coco Tea to perform in New York: Groovin Inc., the promoters of the annual New York City music extravaganza Groovin In The Park are very pleased to announce their third annual concert for Sunday June 30 for Roy Wilkins Park in Queens, New York. The announcement was made at the event launch at the Consulate General of Jamaica in Manhattan recently.
"I am personally very delighted that my team and I have been able to perfect our game plan and return to Roy Wilkins Park for the third year with another world class production that is guaranteed to thrill music lovers across the New York tri-state region", Chris Roberts, founder and CEO of Groovin Inc. announced today.
This year's lineup is more dazzling that ever and includes reggae's most illustrious living legend Toots Hibbert alongside iconic hit machines Barrington Levy, Cocoa Tea and Queen Ifrica. Additional acts will be announced later.
Although Groovin In The Park is only heading in its third year, this eclectic New York City event that synergizes the most awe-inspiring talent from the planets of reggae and R & B has already cemented an enviable reputation as the summer concert that is not to be missed.
This year the event promises to be a ravishing treat for reggae lovers who will have the opportunity to see Toots, icon and former lead singer from the classic 60s group The Maytals doing nostalgic anthems such as 54-46, Sweet & Dandy and Monkey Man. Equally enrapturing will be a rare performance in New York City by the modern day Fyah Mumma Queen Ifrica who typically has audiences chanting her ever last word in live performances. And of course, the anthologies of both Barrington Levy and Cocoa Tea have defined excellence in reggae music over the past three decades, so fans attending Groovin In The Park this year are in for a truly special treat.
"I am excited about performing at Groovin In The Park on Sunday, April 30th. It is gonna be a grooving event" veteran reggae legend Toots told the gathering at the launch. "I am encouraging families to come out early and enjoy the event."
In its first two years, Groovin In The Park has succeeded in electrifying New York City with legends such as Beres Hammond, Jimmy Cliff, Beenie Man, Boyz 11 Men, Kenny "Baby Face" Edmonds, Tarrus Riley, Machel Montano, Gladys Knight and others.
Among the special invited guests attending the launch were Herman LaMont, Consul General to Jamaica, NY; Caribbean Food Delights founder & CEO Vincent HoSang and his daughter Sabrina HoSang COO; Shelton Rose, Grace Kennedy, Market Manager, Northern US; Eddy Edwards Chairman Jamaican Jerk Festival USA; Trevor Scotland, SQPA Director of Marketing; veteran radio host Gil Bailey; Chris Chin CEO VP Records; Irwine Clare, CEO Team Jamaica Bickle; Bob Desouza, CEO Trans Continental Shipping; executives from the Groovin Inc. team among others.
Photo captions (Alison Ione photos)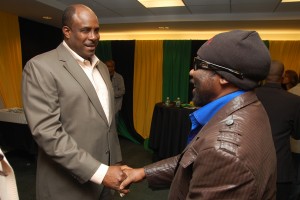 (L-R) Chris Roberts, founder & CEO of Groovin Inc. greets reggae icon Toots Hibbert at the Groovin In The Park event launch.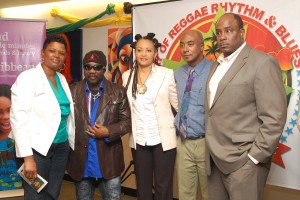 (L-R) Joan Lewis, Groovin Inc executive; singer Toots Hibbert; Andrea Bullens, Groovin Inc executive; Anthony Turner, publicist IMAGES Newsletter and Christopher Roberts, Groovin Inc. founder & CEO at the Groovin In The Park event launch, which was held at the Consulate General Jamaica NY.