Free Overtown Music and Arts Festival Saturday July 19 Performances by Raheem Devaughn Keke Wyatt Case and More
HEADLINER MARKET GROUP
P R E S E N T S
Saturday July 19
Overtown Business District I NW 3rd Avenue between 8th & 11th Street
Headliner Market Group I City Commissioner Keon Hardemon
SE Overtown Parkwest CRA
"Overtown Music & Arts Festival"
* * * FREE ADMISSION * * *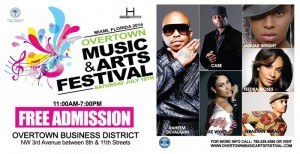 Raheem Devaughn to Headline All-Star Line Up at 4th Annual Overtown Music and Arts Festival Overtown Transforms Into A Cultural Oasis Hub To Celebrate Its Rich Music History
Overtown Music and Arts Festival-Saturday, July 19, 2014 from 11am-7pm | Diverse blend of ingredients to celebrate the Heritage and Culture of Overtown: Art, Music, Entertainment, Youth Zone, Food, Drinks | FREE and open to the public | Presented by Headliner Marketing Group, the Southeast Overtown/Park West Community Redevelopment Agency (CRA) and City of Miami Commissioner Keon Hardemon
Miami,FL – The 4th annual Overtown Music and Arts Festival(formerly named Overtown Rhythm and Arts Festival), will take place in the heart of the Overtown Business District, NW 3rd Avenue between 9th & 11th Streets on Saturday, July 19, 2014. The event starts at 11am and is free and open to the public. The event has attracted thousands of attendees over the past three years and plans to widen visitor demographics with its star-studded line up of musical artists headlined by Grammy- nominated Raheem Devaughn. Entertainment also includes live performances by Keke Wyatt, Case, Jaguar Wright, Teedra Moses, Sebastian Mikael, Deep Fried Funk Band, and Larry Dogg.
Once known as "Miami's Little Broadway", Overtown previously hosted music greats such as Ella Fitzgerald, Duke Ellington and Aretha Franklin. In the past, the city was frequently visited by international guests seeking to enjoy the unique food, music and entertainment the "Colored Town" offered. Artistic and cultural celebrations allow a community to begin to understand the historic, cultural, economic, and social context of a community – an essential foundation for developing and enhancing sense of place. The Overtown Music and Arts Festival presents an opportunity to celebrate the rich heritage that the Overtown community provides to the landscape of South Florida.
"I would like to encourage everyone to join me at the 4th Annual Overtown Music and Art Festival. The CRA and the City of Miami have worked tirelessly to make this a most exciting and enjoyable celebration," said City of Miami District 5, Commissioner Keon Hardemon.
"The Southeast Overtown /Park West Community Redevelopment Agency is proud to be a sponsor of this year's Overtown Music & Arts Festival," said Clarence Woods, Executive Director of the SEOPW CRA, "This year's festival line-up aligns with our agency's objectives to boost economic development and introduce new comers to the area. Our goal is to provide positive revenue and exposure to local businesses and non-profit organizations here in Overtown."
The event will also include a Youth Zone presented by Teens Exercising Extraordinary Success (T.E.E.S) incorporating an educational health & wellness-component and fun fitness activities for toddlers to teens. HistoryMiami will curate youth arts & crafts activities related to "Urban Arts" as well as music inspired activities.
Another highlight includes the Mavericks Tonsorial Parlor being transformed into a visual art exhibition showcasing the works of famed video director, Gil Green. Green's "One More Jig" examines the frustrations felt by black actors relating to the negative portrayal and stereotypes in video, film and television. The art exhibit will also explore how images in pop culture form impressions on future generations.
Non-profit agencies involved in the event include: Animal Adoption by the Miami-Dade County Animal Services Department and the Epilepsy Foundation of Florida. Florida Department of Health will be on-site conducting HIV Testing. The Florida Department of Highway Safety & Motor Vehicles will be at the festival giving free license renewals and ID's for kids.
Sponsors include: City of Miami Commissioner Keon Hardemon, Southeast Overtown/Park West CRA, Miami -Dade Economic Advocacy Trust, AMC Theaters, Comcast, T.E.E.S, and House of Wings.