Dancehall Icon Vybz Kartel Returns with New Album, 'Kartel Forever: Trilogy,' in Stores September 24, 2013 from Tad's Record
New York, NY – Dancehall icon Adidja "Vybz Kartel" Palmer returns with his latest studio effort, Kartel Forever: Trilogy, available physically and digitally worldwide on Tuesday, September 24, 2013, from Tad's Record. Hailed as the undisputed World Boss of the dancehall genre, this marks a highly-anticipated, full-length, physical album and international release from the controversial artist, who remains incarcerated in his homeland Jamaica. Celebrated and polarized for his stimulating lyrics and provocative ploys on and off stage, there is no doubt Vybz Kartel is a defining thread in the fabric of dancehall and indeed, this massive collection proves to be dancehall music in its ultimate form.
Kartel Forever: Trilogy boasts 60 tracks on the three-disc album, including previously unreleased singles and numerous hits from recent years. Kartel is determined to stay atop his dancehall throne and keep his fans satisfied until his inevitable return to the studio to make music for the masses. "I want to thank all my supporters for your love and unfailing support throughout these trying times," says Kartel. "Even though I am incarcerated, I am still up to the time. This album shows that I get stronger with each passing second. Tad's plus Adidjaheim Records is a sick formula and the result is Kartel Forever: Trilogy. Worl' Boss fullstop!"
With the slew of songs Kartel currently has on the streets in Jamaica and on reggae specialty programming worldwide, Kartel Forever: Trilogy provides a vivid kaleidoscope of his continued evolution as an extraordinary artist. Despite the geographic limitations of the artist, his music speaks volumes, as is evident from his continued surge in popularity, especially over the past two years.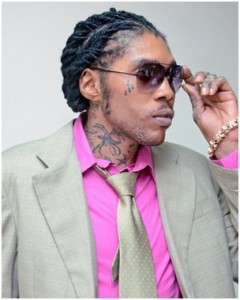 The first official single is "School," a call to action for youths to "pull up their pants," be on time to school, do their homework, take pride in themselves and be a good student – advice for students from Di Teacha. It was produced by his common-law wife Tanesha "Shorty" Johnson on her new label, Short Boss. The other singles propelling the album are "Business" and "Compass," both trademark raunchy, hardcore dancehall joints, teasing with wicked lyrics and sexual situations. All three singles are presently igniting the airwaves in Jamaica and are set to take the world by storm as the album gets ready to drop. The three-disc collection also includes some of Kartel's biggest hits in the recent years, including "Cake Soap," "Summer Time," "Dumpa Truck/That Sweet Yuh," "Benz Punani," "Why Pree (World Boss), "Coloring Book/Tattoo Time Come," "Straight Jeans & Fitted" featuring Russian, "Dandy Shandy" and "Touch A Button."
Although much attention is paid to his racy, risqué releases, Kartel also maintains a rich history of musically addressing social and economic injustices in his homeland, further adding to his popularity with the common man and striking a nerve among the youths of the nation. His blockbuster singles "Clarks," "Ramping Shop" and the Major Lazer-produced "Pon Di Floor" have garnered Kartel regular airplay globally, including breaking into the U.S. Billboard charts with "Ramping Shop" featuring Spice in 2009, solidifying him as a favorite among DJs and fans worldwide and writing him into dancehall history forever.
Jamaican imprint Tad's Record enjoys a strong partnership with the entertainer and joins him on this ambitious journey of keeping his music alive. "Producing and affiliating ourselves with projects that showcase exquisite craftsmanship is something that, as a company, we at Tad's Record take great pride in doing," states Tad Dawkins, President of Tad's Record. "Therefore, working with the 'World Boss' Mr. Palmer himself again, after the exceptional successes of our first project together Pon Di Gaza 2.0, was a no brainer. 'Sublime' is the one word that sums up the album Kartel Forever: Trilogy."