Reggae/Dancehall Super-Star Mavado Performs LIVE in Haiti for the First Time!
Mavado Performs Live in Haiti
Reggae/Dancehall Super-Star Mavado Performs LIVE in Haiti for the First Time!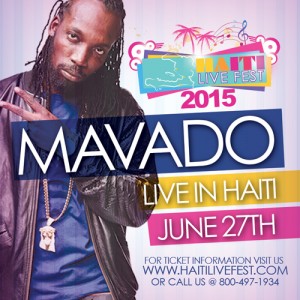 Delray Beach, FL: Mansions Records today announced, Mavado (David Brooks) will be performing live for the first time in Port-au-Prince, Haiti at the Centre Sportif Henfrasa, Delmas 33.
Mavado, born David Constantine Brooks was raised in Kingston, Jamaica's Cassava Piece community. His debut single, "Real McKoy" on the Anger Management riddim in 2004, provided him instant success. He further established himself with the follow-up record "Weh Dem a Do", on the Red Bull & Guinness riddim, that had the distinction of hitting Billboard. After a string of hits in 2005 and 2006, Mavado released "Gansta for Life" in 2007 which infiltrated the sound waves around the world. Since then, he has catapulted his career while being featured with Grand Theft Auto IV, Massive B Radio, G-Unit Track 'Let It Go', UK MOBO Award for Best Reggae Act and then in 2011 launched his very own label, Mansion Records where he debuted another hit single "Delilah". Later in 2011, Mavado appeared on the Angie Martinez show on New York's Hot 97 radio station to announce that he had signed a deal with DJ Khaled record label "We The Best Music Group" where Mavado released four singles with "I Ain't Going Back Broke" being his latest release.
The core business of Haiti Live Fest is conceptualizing, programming and delivering unique experiences for the Haitian community as well as bringing awareness to the need of renewable energy. Working with the top DJ's and artist in the world, their ambition is to deliver what most people have not experienced before, a world class festival presented by world class sponsors. The Board of Directors is comprised of private investors and artist with vast knowledge and contacts within the music industry. Using that experience to host benefit concerts, events and fundraisers for the Caribbean & South American Regions.
Event: Haiti Live Fest
Who: Mavado
When: June 27, 2015
Where: Centre Sportif Henfrasa, Delmas 33 Port-au-Prince, Haiti
Social Media: @HaitiLiveFest