"Clay J'ouvert Merges The Old With The New- Keeps Tradition Alive"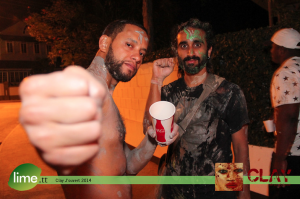 Port-of-Spain, Trinidad. January 23, 2015———-Ole time mas in Trinidad and Tobago is getting a facelift. The transformation began in 2014 and the evolution continues this year. A J'ouvert experience dubbed CLAY J'ouvert is responsible for the effort to synergize the old with the new, bringing what once was, to the fore again, in a beautiful way.
CLAY J'ouvert is really a traditional mud mas band based in the Woodbrook area. This year, the team who brought the concept to life last year, is looking toward creating a more memorable experience this year. The CLAY experience boasts what has been coined 'the finest mud from a secret location along the East coast of Trinidad.' Together with mud, patrons of this traditional J'ouvert band bask in the colourful delight of abir- most often used during the Hindu Phagwa celebrations. "Our aim is to deliver to patrons, a totally immersive J'ouvert experience by finding the perfect balance between an ole time vibe and a progressive edge," said representative of the band, Justin Gosine. He said the band enjoyed a pretty successful debut in 2014 and in 2015, in a bid to up the anti, CLAY is offering a limited traditional section costume- a J'ouvert favourite, 'Nighties and Wigs.'
"We encourage creativity from our masqueraders and welcome all do-it-yourself ole mas costumes," said Gosine, in the same breath emphasizing the team's goal of maintaining the traditional elements of a Trinidad and Tobago J'ouvert experience.
The band launches on Saturday January 24th at La Habana along Ariapita Avenue. A spectacle of colour and muddy madness is expected to be shown off, delivering to the Avenue's supporters, a little taste of the CLAY experience in the lead up to T&T's J'ouvert.
Organisers lament that many of the true traditions of T&T's carnival have been sidelined for pretty, modern replacements. Gosine said this is their way of bringing the youths to a time of purity, when Carnival and J'ouvert in particular delivered a message through creativity.
CLAY J'ouvert can be found online on Facebook at Clay.jouvert, Youtube at ClayJouvert, Instagram @clayjouvert and on Twitter at the same ClayJouvert.