CHRONIXX & ALKALINE TOP 36th IRAWMA WINNING 3 AWARDS, EACH SHATTA WALE BROUGHT THE HOUSE DOWN; AS LT. STITCHIE CLOSED THE COMBINED 36TH IRAWMA AND 37TH CMA IN CHICAGO
Reggae superstar Chronixx and dancehall sensation Alkaline, were the big winners in three categories each, at the combined 36th Annual International Reggae and World Music Awards (IRAWMA) and 37th Chicago Music Awards at the Logan Center for the Arts – University of Chicago last Sunday evening.
Fans of Africa's reggae star Shatta Wale brought the house down with excitement, applause and cheers, has he accepted the "Special IRAWMA/Martin's International Award of Honor". Wale was hardly able to give his acceptance speech, taking some two minutes to subdue his ecstatic fans
Wale's Special Award was presented to him by Martin's International Producer Ephraim Martin, together with Soukous Entertainer, Top One Frisson, who earlier give a remarkable performance, and by African Spectrum Newspaper publishers, Berko & Pauline Owusu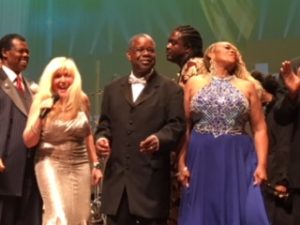 Reggae Icon Lt. Stitchie closed the joint Awards celebration with a classic performance that lead into the grand finale, with the Hurricane Reggae band, winner of two Chicago Music Awards earlier in the evening. Other outstanding performances on the IRAMWA side came from Richie Innocent, and the collaboration of reggae singer K'Coneil and the enigmatic Indian performer, Sara Ranganathan.
Reggae superstar Chronixx, captured the Awards for "Best Male Vocalist", "Best Album/CD" for "Chronology" and "Most Cultural/Educational Entertainer", while Alkaline won for, "Entertainer of the Year", "Best Song" and "Best Male Dancehall Artist".  The complete list of winners, can be seen also at [www.irawma.com]. Winners and performers for the Chicago Music Awards will be coming in a separate release and can be seen at [www.chicagomusicawards.org].
Ephraim Martin announced that the 37th International Reggae and World Music Awards will return to Jamaica, on Saturday May 11, 2019 and will be held at the Pegasus Hotel in Kingston
The event was sponsored by. NBC 5 Chicago, Jamaica Tourist Board (JTB), The Look – A Women's & Men's Store, LaFruteria Inc, Old World Market, Rogers Park Fruit Market, Kingston Mines Blues Club, Payne Center for Medicine and Music, SAPNA (Sri Annamacharya Project of North America), All United Imports, Rasta Love Punch, African Spectrum, Africa USA Today Magazine, CKW entertainment, Golden Krust Bakery,  Kensey & Kensey Communications and others