Caribbean Connects Ahead of Barbados Crop Over as T&T Duo Deliver Six Diverse Storylines
Port-of-Spain, Trinidad (July 1, 2013) – He made a vow to himself that there would be no failure- there would be no obstacle big enough to slow down his drive and he's living that vow. Dale Ryan, the latest singer/songwriter out of Trinidad and Tobago to prove that he's got an indelible passion to create and share his creations, is about to unleash something huge.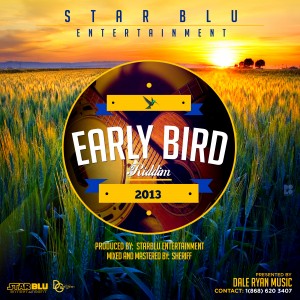 In recent days, teaser promotions announcing the arrival of the "Early Bird Riddim" ahead of Barbados' Crop Over carnival celebrations have been making the rounds on the World Wide Web. Social media feedback in response to the Starblu Entertainment created riddim, which features entertainers like Destra Garcia, Super Jigga TC, Alison Hinds, Barbados' first quadruple crowned Monarch, Mikey among others, has been positive. With that, the big reveal this week, is expected to be warmly embraced by radio programmers and DJ's alike. "We have some really great artistes on this riddim and the vibe of all the songs you'll hear, is sensational," assured Ryan. The Early Bird Riddim will deliver six singles to music lovers and with final mixing and mastering of the production done by none other than Sherrif- the producer of Bunji Garlin's Differentology, Ryan says he's absolutely sure that those who listen will enjoy every song on the riddim.
Ryan's pride for this latest production and each single that will be released is two-fold as not only is he the executive producer of the riddim but he also gets partial songwriter's credit for each of the six songs. Together with Patrice Millien of A Millien Concepts, Ryan penned each of the singles. Both he and Patrice conceptualized and administered the project, from the selection of StarBlu Entertainment's ingenious musical composition, to the composition and production of the single, artiste selection and now, the subsequent marketing and promotional strategies that will be employed in presenting the riddim. Super Jigga TC's song is called 'All I Want' and in recent Twitter posts, the artiste expressed his excitement for the big unveiling in the days ahead.
As the saying goes "the early bird catches the first worm" and without a doubt, with the caliber of artistic talent featured on the Early Bird Riddim, there is no doubt that these six songs will catch the attention of the soca music industry at home and up the islands and beyond. The supporting cast of writers- Dale Ryan and Patrice Millien, together with producer Starblu Entertainment are partly responsible for giving rise to the ever- popular Project 5 Riddim and now this fleet promises to whistle beautiful melodies into Crop Over celebration and certainly all the way to Trinidad and Tobago's Carnival 2014.