Caribbean-American Actress Rhona Fox Honored in Hollywood
(New York, NY) – Caribbean-American actress Rhona Fox received the Rising Sun Award at the Caribbean Heritage Salute to Hollywood & the Arts gala in Hollywood, California, on Friday, June 20, 2013. She was honored along with actor Reno Wilson (currently stars on Mike & Molly on CBS and of Antiguan heritage) and Paula Madison (a former vice-president of NBC Universal and part owner of WNBA Los Angeles Sparks team, and of Jamaican heritage).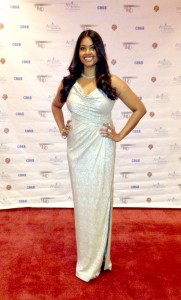 The Caribbean Heritage Organization (CHO) has been hosting this awards ceremony since 2007 and selected Fox as this year's emerging actor. The Rising Sun is awarded to one actor of Caribbean heritage each year and past recipients include Tatyana Ali. In her acceptance speech, Fox was humbled to receive this prestigious honor and shared it with everyone attending, as the gala also served as a fundraiser for local charities and a scholarship in Haiti. "I'm so thrilled to receive the Rising Sun Award from the Caribbean Heritage Organization and had an amazing time celebrating this incredible recognition in true Hollywood fashion," states Fox. "All this support encourages me to keep chasing this crazy dream of mine and I look forward to making my Caribbean people proud."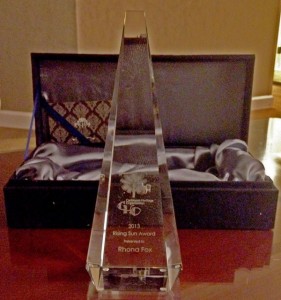 The red carpet event took place at the ritzy Hilton Universal City and kicked-off with a VIP press reception, where Fox was interviewed by various media outlets. The party then moved to the formal ballroom, where dinner was served and patrons were entertained by musical numbers and various Caribbean folk dances, which included Garifuna and Junkanoo dance ensembles. The awards were presented to the three honorees, with video tributes introducing each person. For Fox's tribute, she was congratulated by her mother, soca star Farmer Nappy and dancehall icon Shaggy. Each honoree delivered heartfelt acceptance speeches before the gala erupted into dancing and a true celebration.
"We are honored that the beautiful and talented Rhona Fox was present to receive our 2013 Rising Sun Award," says Marva Herman, Executive Director of the Caribbean Heritage Organization, who has been spearheading this Salute to Hollywood and the Arts since 2007.
"Rhona, as a emerging actress and entrepreneur, has done us Caribbean-Americans proud, and we look forward to even greater things from her," added Dr. Claire Nelson, the architect behind Caribbean-American Heritage Month and Founder of the Institute of Caribbean Studies. Dr. Nelson presented Fox with the Rising Sun Award.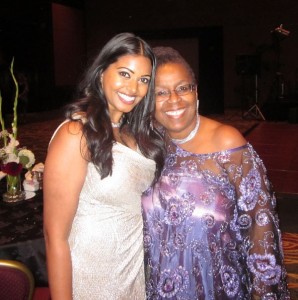 CHO Founder, Dr. Claire Nelson, with Rhona Fox
Fox was born in Essequibo, Guyana and relocated with her family to Nassau, Bahamas at 10-years old. She migrated to New York City to attend university and the Big Apple remains home and work today, for the rising actress. She was awarded Guyana's Golden Arrowhead Award in 2012, along with the City of New York Proclamation, for her contributions to the arts.
The summer is heating up for Fox, as she is booked for various film and commercial projects, and looks forward to representing her Caribbean culture and people on the world stage.