Calypso Rose signs to Mad Decent, announces "Leave Me Alone Remixes" EP to come Aug 11
CALYPSO ROSE SIGNS TO MAD DECENT TO RELEASE THE LEAVE ME ALONE REMIXES EP, AUGUST 11; NORTH AMERICAN RELEASE OF FAR FROM HOME LP TO COME LATER THIS YEAR
EP Features Remixes By Kubiyashi, Témé Tan, Freakmakers and Roscius
Rose Speaks with Anthony Bourdain on the Recent, Trinidad-Themed Episode of CNN's "Parts Unknown"
Rose Will Play Late Summer Shows in New York (Aug 30) and Los Angeles (Sept 10)
Video For Single "Far From Home" Now Streaming Via YouTube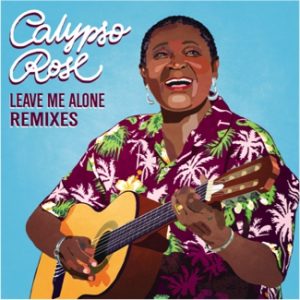 The Tobagonian singer Calypso Rose announced today her partnership with Mad Decent, who will release a collection of remixes of Rose's international hit "Leave Me Alone," on July 28. The track comes from her latest album, Far From Home, which achieved massive success in Europe upon its release in 2016, going platinum in France, and earning her the Victoires de la Musique (French Grammy) for World Music Album of the Year, and title of Womex Artist of the Year. Mad Decent will release the album in North America later this year. Rose and her band will play Stage 48 in New York on August 30, and the Ohana Festival in Los Angeles on September 10.
"Leave Me Alone" has garnered nearly 3 million views on YouTube and is topping the charts in Trinidad. The song has become an anthem for a movement in Trinidad called #LeaveSheAlone, which aims to bring attention to the culture of sexual assault, domestic violence and harassment that is pervasive during Carnival. Outlets including the Washington Post and Slate have profiled the movement.
As something of a cultural ambassador for Tobago, Rose sat down with Anthony Bourdain for a recently aired episode of his CNN show, "Parts Unknown." The two discussed Rose's life, recording career and connection to the island.
Rose has enjoyed a long and celebrated career as the matriarch of the genre from which she takes her name. She's released around 20 albums, has collaborated with artists including Bob Marley & The Wailers, won the prestigious "Calypso King" competition enough times that they renamed it the gender neutral "Calypso Monarch" in her honor, and has been the recipient of countless awards, including the International Caribbean Music Award's Lifetime Achievement Award. The New York Times has praised her "deeply authoritative, irresistibly buoyant take on calypso," and The Fader writes, "At 76, the calypso legend still hasn't lost the pulse of the party."
Born McCartha Linda Lewis in Bethel, a small village on the island of Tobago, Rose was the daughter of a Baptist preacher who thoroughly opposed to her pursuing a musical career. Never one to simply follow orders, she composed her first song at the age of 13 and began performing around Trinidad and Tobago under the name Crusoe Kid, and later as Calypso Rose. She spent 17 years singing on cruise ships for the New York-based company Celebration At Sea, eventually graduating to the legendary stages of the Apollo Theater and Madison Square Garden to perform with two of the greatest Calypso artists: Lord Kitchener and Mighty Sparrow. A fighter her whole life through, Rose has survived sexual assault, cancer and two heart attacks, and has disrupted the established order of Calypso, which until her arrival was dominated by men. Only those who have overcome such hardships can sing life not only with such force, but also with such pleasure.
Calypso Rose – Leave Me Alone Remixes EP
Leave Me Alone (feat. Manu Chao & Machel Montano) [Kubiyashi Remix]
2. Leave Me Alone (feat. Manu Chao) [Témé Tan Remix]
3. Leave Me Alone (feat. Manu Chao) [Freakmakers Remix]
4. Leave Me Alone (feat. Manu Chao) [Roscius Summer 98 DiscoHouse Rework]
About Mad Decent
Founded in 2006, Mad Decent is a Los Angeles based, independent record label synonymous with bringing genre-bending sounds to the forefront of dance music. From its humble beginnings in Diplo's Philadelphia studio, Mad Decent has cemented itself as a leading purveyor of culture through their relentless pursuit and love for creating, discovering and sharing music. Disruptive by nature, Mad Decent has allowed once underground sounds to infiltrate the mainstream with releases from artists such as Major Lazer, Dillon Francis, Yellow Claw, Party Favor, NGHTMRE and Grandtheft. Mad Decent also houses Good Enuff, previously Jeffree's, which has been responsible for propelling releases such as Baauer's "Harlem Shake" and DJ Snake's "Bird Machine."