Black-Am-I Joins I-Wayne on U.S. I&I Tour This Fall – Download New Single "In The Ghetto"
BLACK-AM-I JOINS FORCES WITH I WAYNE ON THE I&I TOUR
Spreading Roots Reggae Vibes Nationwide Throughout 2014 Fall Season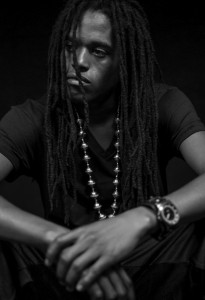 The newest recruit on the Marley-owned Ghetto Youths International label Black-Am-I teams up with I Wayne, one of today's most pivotal figures in roots reggae, on the I&I Tour that spans over 30 cities across the United States throughout October and November 2014. In Rastafarian culture, I&I represents the oneness between the human and the divine, so the title only seemed fitting for two of Jamaica's hottest roots reggae artists who are spreading the conscious movement.
This past summer, the culturally-inclined reggae singjay performed as one of the opening acts for Damian Marley, performing at large scale music events such as the California Roots Music and Arts Festival in Monterey, CA. Along with embarking on the I & I U.S. Tour 2014, Black-Am-I will perform on Oct 20 with Damian "Jr. Gong" Marley, Stephen "Ragga" Marley, Julian Marley, Shaggy, Sean Paul, Bounty Killer, Jah Cure, Busy Signal, Etana, Wayne Marshall, Jo Mersa, Christopher Ellis and more on the Welcome to Jamrock Reggae Cruise.
Black-Am-I recently dropped his new single "In The Ghetto," which will be available on the upcoming compilation Ghetto Youths International Presents Set Up Shop Volume 2.
Listen/download/post "In The Ghetto":
BLACK-AM-I
Black-Am-I was born Owen Davis on Nov. 17, 1984 in Nine Mile, JA, the birthplace of reggae icon Bob Marley. In honor of Robert Nesta Marley, Black-Am-I received the nickname I-Nesta from his father. He began writing lyrics at age 16 and recorded his first demo CD in 2005. He derived his moniker from his song "Black-Am-I" the first track he recorded for Damian and Ghetto Youths International. The song promotes black pride, solidarity and self-determination. "The song says that I am black and I won't be doing certain things like bleaching my skin; and I will stick to my roots and culture," said Black-Am-I. Othernotable tracks by Black-Am-I include "Modern Day Freedom" and "Sound System." His influences include Bob Marley, Damian Marley as well as fiery roots reggae artists like Tarrus Riley Sizzla Kolonji, Jah Mason and Jah Cure.
http://www.twitter.com/blackamI1 / https://www.facebook.com/pages/Black-Am-I/203619566479545?fref=photo
U.S. TOUR DATES
22-Oct in SANTA ROSA, CA @ CASA RASTA'S
23-Oct in OAKLAND, CA @ NEW PARISH
24-Oct in SAN DIEGO, CA @ WORLDBEAT CULTURE CENTER
25-Oct in SANTA CRUZ, CA @ MOE'S ALLEY
27-Oct in REDWAY, CA @ MATEEL CENTER
28-Oct in SEATTLE, WA @ NECTOR LOUNGE
29-Oct in TACOMA, WA @ JAZZ BONES
30-Oct in PORTLAND, OR @ HAWTHORNE THEATER
2-Nov in BOULDER, CO @ FOX THEATER
3-Nov in DENVER, CO @ BLUEBIRD
4-Nov in ASPEN, CO @ BELLY UP
6-Nov in SALT LAKE CITY, UT @ THE STATE ROOM
8-Nov in LAWRENCE, KS @ BOTTLENECK
9-Nov in LITTLE ROCK, AR @ JUANITAS
12-Nov in KANSAS CITY, MO @ RECORD BAR
14-Nov in DALLAS, TX @ POOR DAVID'S
15-Nov in AUSTIN, TX @ CANTINA
16-Nov in HUNTSVILLE, AL @ CLUB 47
17-Nov in JOLIET, IL @ MOJOES
18-Nov in RALEIGH, NC @ THE POUR HOUSE
19-Nov VIRGINA BEACH, VA SHAKA'S
20-Nov in CHICAGO, IL @ WILD HARE
21-Nov in BROOKLYN, NY @ ALBANY MANOR
23-Nov in NEW YORK, NY @ BB KINGS
25-Nov in BALTIMORE, MD @ 8 x 10
26-Nov in PROVIDENCE, RI @ CLUB FETE
29-Nov in JACKSONVILLE, FL @ FREEBIRD
30-Nov in TAMPA, FL @ SUPA D