BélO performs at The 47th Montreux Jazz Festival in Switzerland tomorrow
BélO will be performing at the 47th Montreux Jazz festival on July 15, 2013 at music in the Park.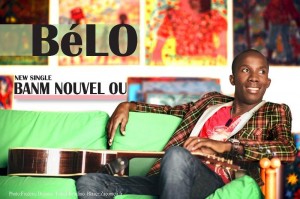 Montreux Jazz Festival was founded by Claude Nobs in 1967, over the years the Montreux Jazz Festival has become an unmissable event for music fans in Switzerland and around the world. Its stages have been graced by all of music's greats, from Miles Davis to Ray Charles and from David Bowie to Prince.
BélO has been hailed as Haiti's musical ambassador to the world. A socially conscious singer-songwriter with a sophisticated sound and winner of numerous awards, including the prestigious "Prix Radio France International Discoveries of 2006," BelO's sound is a mixture of Worldbeat, Rock, Reggae and Haitian traditional rhythms known as "Ragganga".
BélO recently released a new single, "Banm Nouvel Ou"(Tell me about you). "Banm Nouvel Ou" is the first single to be released off BélO's 4th album scheduled for April 2014.