ANTIGUANS SHINE AT JRG BIKINI FASHION EVENT IN NEW YORK CITY
NEW YORK, NY – The annual JRG Bikini Under the Bridge Fashion Extravaganza took place in the historic Downtown Brooklyn, just one block from the colossus Barclays Center this past Sunday to an audience of over 500 people. The bikini event now in its 8th year was hosted by the show's brand ambassador and former Miss Universe and Miss World Representative and Recording Artist Shermain Jeremy. Also gracing the stage was Antigua's Queen of Carnival 2011 Ms. Latisha Greene who wowed the crowd with her unique look and strong runway skills. Official creative stylist for the event was represented by Antigua's fashion visionary of DECKARY, Mr. Teba Andrew, who was on-hand prepping the models for their runway appearance. Notable Antiguan hair stylist Brian Andrew who has worked behind the scenes of New York Fashion Week as well as featured in magazines such as Essence was the official hair stylist to Shermain Jeremy and was responsible for her show-stopping coif.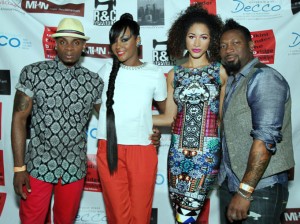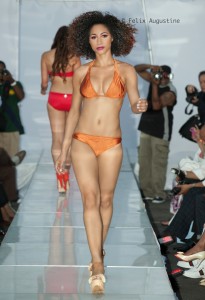 The Antiguan fashion and beauty quartet were all smiles at the end of the super successful fashion display, "We are all just excited about being able to showcase our talent within an international forum. Antigua is a place of insurmountable talent that most times is untapped. We are glad that JRG Entertainment believed in us enough to give us the opportunity to shine on this stage," says spokesperson Shermain Jeremy. The group conveyed that it is their intention to continue to grow their individual talents and brands as well as continue to work together as a team and look forward to continuing to further putting Antiguans on the map.
In keeping with the theme of the event "where fashion and music collide", the star-studded event featured performing artists such as Tahmac, who recently opened for Justin Beieber's world tour, the sassy Selena Dabbs and the Haitian Dance Queen Sese. Special guest appearances by Kyoto Hardat, current Miss New York USA and Jen and Erica Mena of Vh1's Love and Hip-Hop added to the ultra celebrity feel of the star-studded event.