Aidonia To Launch New Clothing Line This Summer
Aidonia To Launch New Clothing Line This Summer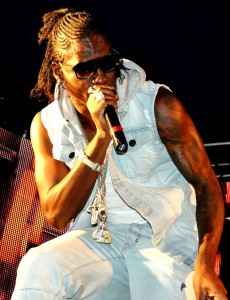 Fresh from a scintillating performance at the recently concluded Reggae Sumfest in Catherine Hall, Montego Bay, red hot dancehall star Aidonia is set to launch his new clothing line within the coming weeks.
The deejay will be rolling out his apparel line for the summer. The collection will cater to both males and females with a line specifically for children to follow.
"Ever since my emergence in the music industry, I've always wanted to dabble into other aspects of business. Music and fashion go together and I think starting a clothing line will be a good marriage for my music and brand. It's also something the fans have been demanding for years," Aidonia stated in a release to the media.
He continued, "Every time we go on tours people always asking for CDs and other paraphernalia, so I believe starting a clothing line is a step in the right direction in building the JOP brand."
The line dubbed '1V' or '1Voice', coined from a popular slogan used during his performances will be prominently displayed on the T-shirts. The line will include tank tops, pullovers, hats and caps, all of which will be made available via selected stores across the island.
An official website will also be launched which will allow international fans to purchase their favourite products online.
Currently promoting singles such as 80s Dancehall Style, Don Deh Yah and the newly released Coco Powda, Aidonia says he's working assiduously with his team to fine tune the business aspect of his new venture to allow for a smooth unveiling when the official launch date arrives.
Meanwhile, Aidonia along with Deablo and other members of the camp are expected to depart the island this week for a performance in The Bahamas.