VP Records & House Of Marley Collab on Reggae Gold 2016 (Pre-Order Today) + VIBE Premieres Gyptian "Jiggle, Jiggle" (via Spotify Exclusive)
VP RECORDS TEAMS UP WITH HOUSE OF MARLEY TO PRESENT REGGAE GOLD 2016
The Annual Summer Soundtrack for the Reggae Masses Will Drop July 22
Pre-Order Available Today (July 1)  
VIBE Premieres Album's Standout Track (Gyptian's "Jiggle Jiggle") Exclusively Through Spotify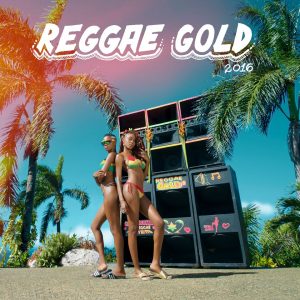 For over two decades, the popular VP Records' series consistently delivers the year's influential hits and showcases musical trends in reggae and dancehall. Available July 22, Reggae Gold 2016 maintains its heralded reputation. Pre-order album now.
This year, the reggae powerhouse teams up with the premiere music electronics brand House of Marley to spread the series to the masses. In collaboration with HOM, this year's eye-popping album artwork was under the creative direction of stylist and photographer Savannah Baker. The set also features a bonus DJ mix disc by Chromatic Sound, "the taste of Jamaican youth" (The Fader).
Jamaican music comes in many forms and facets and continues to push boundaries. Reggae Gold 2016 showcases the island's diverse range – from dancehall and roots reggae to it's influence in contemporary pop, EDM and Top 40.
Whether it is the #1 Billboard Top 100 single "Cheerleader" from OMI or the club banger "I Know There's Gonna Be (Good Times)" from super producer Jamie xx featuring Young Thug & Popcaan, the album has no shortage of mainstream appeal.
The compilation also features a heavy dose of dancehall from some of the most in-demand, breaking artists like Tanto Blacks ("Real Rich"), Alkaline ("Champion Boy" and "A Bagga Tings (Radio),") and Chi Ching Ching ("Way Up N Stay Up" feat. Popcaan & Beenie Man). Following the success of Busy Signal's Major Lazer collab "Watch Out For This (Bumaye)" (that received over 100 million YouTube views), the dancehall ambassador is back with more fire on "Watch Me Now," the current theme song to international ad campaigns with LG Smartphoneand Smirnoff.  Dancehall's reigning Queen of the Stage Spice also leads the pack with her latest dance craze "Needle Eye," which already boasts over 4 million video views.
Summer romance is in the spotlight on Romain Virgo's "Caress Me," the soulful singer Ikaya's "Love Note" and emerging roots vocalist Kelissa's "Best Kept Secret (Locked Away)."
On a conscious tip, the set opens with the aspirational anthem "My Dream" from rising Jamaican reggae singer Nesbeth and closes with socially enlightening track "The Message" from Bunji Garlin and Damian "Jr. Gong" Marley.
Fans will also get a chance hear some of the new sounds of the summer, including Christopher Martin's R&B reggae thumper "Under The Influence" and Gyptian's latest single "Jiggle Jiggle."
Today, VIBE premieres the latter track, which is exclusively available on Spotify.
This versatile collection proves that Jamaican music is and will always be impactful, innovative and indestructible.
www.vprecords.com
www.houseofmarley.com
TRACK LISTING (with video links)
My Dream-Nesbeth
2. Champion Boy-Alkaline
3. Watch Me Now – Busy Signal
4. I Know There's Gonna Be (Good Times) – Jamie xx feat. Young Thug & Popcaan
5. Cheerleader (Felix Jaehn Remix) (Radio edit) – OMI
6. Under The Influence-Christopher Martin
7. Jiggle Jiggle-Gyptian
8. Way Up N Stay Up -Chi Ching Ching, Popcaan & Beenie Man
9. A Bagga Tings (Radio)-Alkaline
10. Real Rich-Tanto Blacks
11. Bogle Move-Elephant Man
12. Needle Eye-Spice
13. Chinese Jordan-Dexta Daps
14. Caress Me-Romain Virgo
15. Best Kept Secret (Locked Away) – Kelissa
16. Dash Wata-Raging Fyah
17. Love Note-Ikaya
18. Whom Shall I Fear-Bulby York feat. Assassin & Tenor Saw
19. The Message -Bunji Garlin feat. Damian 'Jr. Gong" Marley