VP RECORDS CELEBRATES VINYL CULTURE FOR RECORD STORE DAY 2018- ANNUAL EVENT FEATURES SOUND SYSTEMS AND EXCLUSIVE RELEASES
VP Records/Greensleeves will release two limited edition vinyl titles and host its vinyl only, FREE sound system celebration to commemorate Record Store Day 2018, which will take place at VP Records' retail outlet at 170-21 Jamaica Avenue, New York from 11am to 5pm on Saturday April 21, 2018. The event will feature Sound systems such as the revitalized Heat Wave with famous reggae producer Bobby Digital. The event will also feature Massive B, Road International, Dub Electric Experience, Kulcha Kartel w/Vaughn All Stars and Joseph Demension. Sound System will be provided by Pretty Posse (Yellow Bird).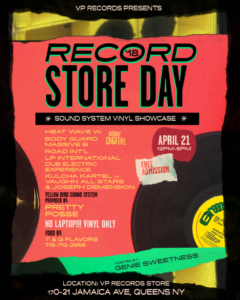 "Record Store day is an important tradition, we see this as an opportunity to make sure that reggae is represented in this global celebration of vinyl music," said Richard Lue, Director of Business Development for VP Records. "The Sound system culture has always represented Jamaican music in a way that is unique and dynamic in our culture," said Dane Bogle, Radio Promotions and Project Manager for Record Store Day at VP Records. "This annual event is a great way to showcase that and have lovers of vinyl come out and enjoy themselves."
VP Records' Record Store Day not only aims to represent the Vinyl community but the Sound system culture, which originated in Jamaica and became a global phenomenon. One sound system in attendance this year, LP International (Love People International), formulated in 1982 in Brooklyn, represents a global, rub -a dub sound, that they uniquely built.
"The vinyl culture is very different from using laptops because of the unique sound of the scratch and overall quality. People still play vinyl and love it," said Puma of LP International. "It is an honor to be part of Record Store Day at the VP Records retail store, I was there last year and it feels great to be involved again because VP has been pioneer in the reggae music business," he concluded.
Among the vinyl releases fans can buy at the retail store event, are new Record Store Day exclusives, a colored vinyl "Phantom Dancehall" by DJ Spooky, a green 7-inch vinyl dub version release of 'Ganja Smuggling' by Eek-A-Mouse and Jackie Mittoo "Showcase". "Phantom Dancehall" includes nine tracks total on two sides with features by Walshy Fire and Sanjay. Self-produced and written by DJ Spooky, born Paul Miller, the vinyl is a must have for vinyl collectors and fans of the iconic musician. Produced by Henry 'Junjo' Lawes, "Ganja Smuggling" features Eek-a-Mouse's comic strip art by Tony McDermot, along with two tracks on each side, including "Ganja Smuggling" and "Smuggling Dub" by Roots Radics.
The VP retail Store in Miramar Florida at 6022 SW 21st St, Miramar, FL 33023, will have thousands of hard to find LP's and 7″ 45's pulled from the warehouse including original pressings, imports seal and rare records. Patrons will also get to experience giveaways, a massive $1.00 sidewalk sale, huge selections of Riddim Driven clothing from $5.00 up, DJ sets and appearances from Pepper Box and special guests to be announced. When signing up for the VP Reggae E-commerce blast, guests will also receive a free Rasta/Jamaica wrist band.
Record Store Day is an annual event held on one Saturday every April to "celebrate the culture of the independently owned record store". Conceived in 2007, the day brings together fans, artists, and thousands of independent record stores across the world to celebrate and spread the word about the unique culture surrounding independently owned record stores in the US and internationally. According to Billboard, yearly vinyl album sales have hit another Nielsen Music-era record high, as the configuration sold 14.32 million (up 9 percent) in 2017. That's up from the previous one-year high, registered in 2016 with 13.1 million.