USVI CARNIVAL – A TROPICAL SCENE INDEED!
By Stacey Bethel
For the past 6 years, I have pledged "I am going to Carnival next year." And year, after year, I never make it. For a million reasons, I just wasn't able to make the journey. But I guess everything happens for a reason because after experiencing the United States Virgin Islands Carnival in St. Thomas this year, I am happy to say that I hooked line and sinker. Bold statement – I know! However the intimacy and many cultural offerings of the USVI Carnival, was perfect for a first-timer. And here is why!
FOR MUSIC LOVER: Carnival Village, staged with food, liquor, fruit, candy and dessert vendors around the perimeter and anchored in the middle, the grand stage, featured nightly acts such as Destra Gracia, Spectrum, Allison Hinds, Sugar Band, T-Vice, Jam Band, Top Notch, Poizon, Shurewayne Winchester and others from neighboring islands. The pulsating sounds of Steel Pan and Calypso music drew young and mature alike who reveled in the festivities. Without incident, every night was a musical treat perfect for the discerning music lover.
FOR FOODIES: Equally impressive were the day time activities. Cultural fairs showcasing island cuisine such as crab and rice, grilled lobster, conch, welks (never had before but tired for the first time and loved), curry goat, pork, goat water, mussels, fried fish, Johnny cakes, tamarind and gooseberry preserves, cakes and tarts, was just an epicurean delight. Vendors from neighboring islands showcased their delectable offerings for food enthusiast to sample. Tourists and locals gathered just as the sun came up to witness the variety offered and were pleased with every bite.
FOR SHOPAHOLICS: After partaking in the local cuisine, visitors strolled around Emancipation Garden to look at the wide array of handcrafted furniture, jewelry, clothing, perfume, accessories, crafts, artwork, carvings and local herbs and tonics. There was something for everyone and no one left empty handed.
FOR PARTY LOVERS: On Thursday April 25th J'ouvert came alive just as the sun was coming up. The street party was riddled with dancing and there were no short of trucks playing music. Everyone marched in the streets having a great time – pausing for the occasional photos and patronizing the many drink kiosks. On Friday April 26th, the children lined the streets wearing colorful costumes. Like little dolls they performed danced routines and showcased gymnastic and musical talents.
On Saturday April 27th, the adult road march was an explosion of color – a masquerade ball. Participants entertained onlookers as they marched down the brick paved streets. Those who weren't gyrating to the music watched with smiles or took photographs that would serve as a memory etched in their minds for years to come. The music, the costumes, the vibe was a true showcase of the essence of Carnival.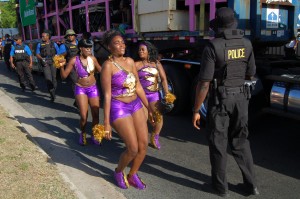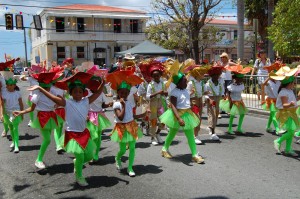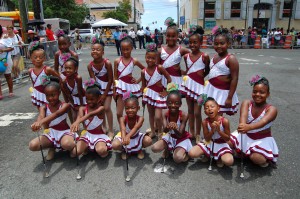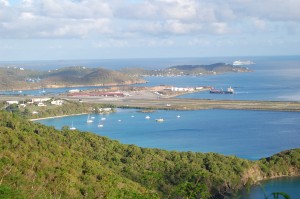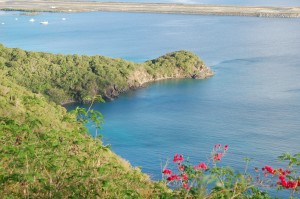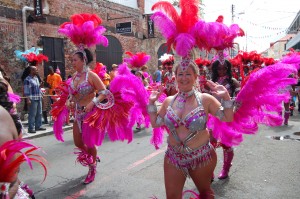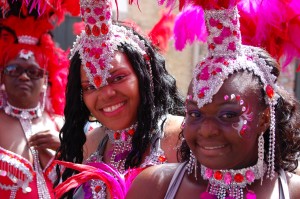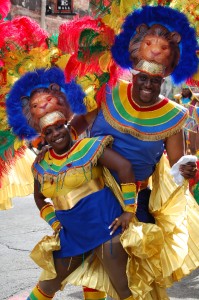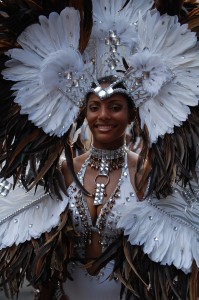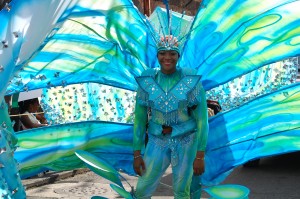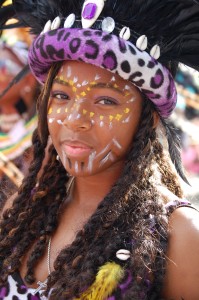 The grand finale took place at 9:00pm with the Carnival Fireworks at Charlotte Amalie Harbor. The 17 minute display was produced by Grucci of New York. To their credit, Grucci has set the world record for the largest fireworks display in Dubai and has produced shows for Presidential Inaugurations and Olympics. The 170 year old Company' expertise was once again on grand display as their show stopping production brought everything to a standstill as everyone watched in awe and amazement – it was the perfect ending to perfect week.
If I had to use one word to describe USVI Carnival, it would be, SPECTACULAR! I look forward to next year's showcase. Thank you St. Thomas!!