Jamaican Ambassador Soon Come to the United Nations
by Brittany Somerset
NEW YORK – United Nations Secretary-General H.E. Mr. Ban Ki Moon met with the new Permanent Representative of Jamaica to the United Nations: H.E. Mr. Courtenay Rattray, in order to receive the ambassador's credentials.
The meeting took place on Tuesday, June 25th, in the conference room on the 38th floor of the Secretariat, at United Nations headquarters in New York City.
The Presentation of Credentials meeting ran approximately 15 minutes behind schedule, in what the media who were present jokingly referred to as, "soon come" Jamaican time.
The newly-appointed Ambassador and the delegation that accompanied him, were beaming as he was introduced to the Secretary-General and his staff members.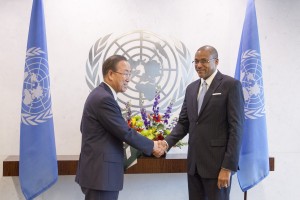 Ban Ki Moon and Courtenay Rattray
Photo by: Brittany Somerset