Top Reggae Acts Announced For Memorial Day 'Best of the Best' Concert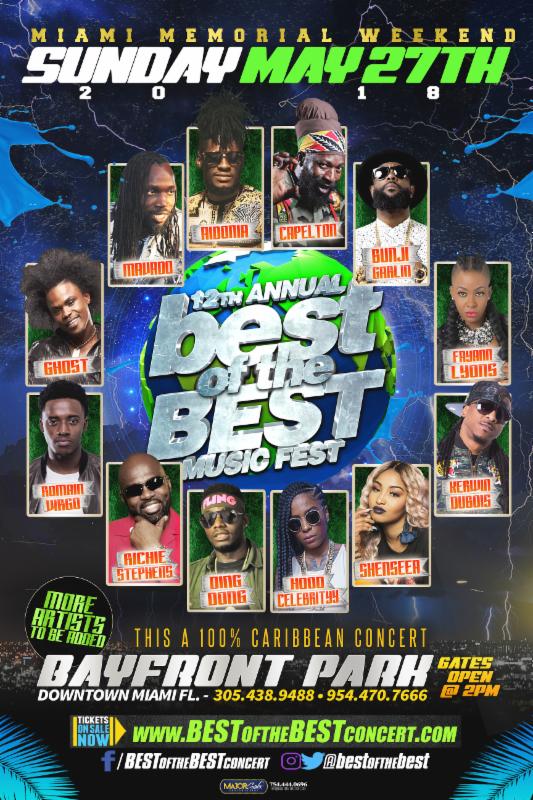 With much anticipation, Best of the Best Music Concert, (BOTB) has made the first announcement for their 12th annual staging. In the first announcement they have already revealed a few heavyweights, which has many wondering who could they come with next.
As one of the premier events for dancehall and reggae music outside of Jamaica and celebrating their 12th anniversary, Best of the Best Music Concert has made their first artist announcement. For the past few months the Best of the Best office has received numerous emails and messages from patrons, many of whom purchased their early bird tickets without even knowing the line up.
The line-up has already given us an array of acts which shows that this is a concert for all ages and all lovers of Caribbean music. So far on this years line up there is Hood Celebrity, Shenseea, Ding Dong, Romain Virgo, Richie Stephens, Ghost, Bunji Garlin, Fayann Lyons, Kerwin Dubois, Aidonia, Capleton and Mavado.   
With an abrupt ending of last year show, the Gully Gad – Mavado was not able to perform for his fans but the promoters made sure that he returned this year and guarantee their will be no repeat of what happened last year.
"Rest assure, Mavado will perform and will perform his full set on this years Best of the Best, what occurred last year will not happen again" says one of the event  promoters and DJ on Hot 97 Steven 'Jabba' Beckford.
For over a decade, BOTB Music Concert has developed a destination getaway to Miami for people from around the globe to enjoy; great company, music and live performances from some of the top artists of the Caribbean. Fans of BOTB not only enjoy a mega music festival on Sunday May 27, 2018, but they get an entire weekend dedicated to producing the "best" events during Miami Memorial Day weekend.