Double Reggae Anthology Series by Legendary Jamaican Producer Bobby Digital, Set for Release this February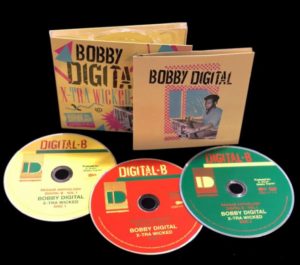 Top Jamaican producer Bobby "Digital" Dixon is known for his signature sound which has influenced many in the reggae music industry and beyond. Now, just in time for Reggae Month and Black History Month, on February 2nd and 9th 2018, 17 North Parade, an imprint of VP Records will present his greatest hits in a double anthology series. Reggae music lovers will experience his dancehall offerings on Volume 1: "X-tra Wicked" out on February 2nd. On February 9th, the best of his roots reggae and lovers rock catalog will be released on Volume 2: "Serious Times."
The double anthology series will showcase the Grammy Award winning producer's music versatility and his legacy in creating songs and rhythms that have transcended time and have been widely sampled by the likes of modern day hip-hop greats such as Jay Z (Solid As a Rock in "Crown") and 50 Cent (Solid as a Rock in "My Crown") and more. Now, Bobby is a living testimony of how great music never dies. Growing up with musicians such as Black Uhuru, Wailing Souls and deejays like U Brown, Trevor Ranking, and Nicodemus, his musical journey began by going to parties from an early age and listening to sound systems like King Tubby's, Socialist Roots, and Rocker's Award winner Jammy's which later led him to develop and fine tune his own unique sound.
Volume 1: "X-Tra Wicked" gives listeners a solid sample of his influential dancehall catalog which was at the center of the musical revolution that swept through Jamaica from the mid-80's onwards with chartbusting records. Bobby's ruling production house was responsible in coining several hits from Shabba Ranks who was a key player in the birth of modern dancehall, spawning featured titles 'Dem Bow', 'Wicked in Bed', 'Peenie Peenie',' Just Reality' and more, all of which paved the way for Shabba's two Grammy winning albums, "As Raw as Ever" and "X-tra Naked" on Epic Records. Other standout tracks include 'Play Play Girl' by Johnny Osbourne, 'Tek Him' by Mad Cobra, 'Serious Time' by Admiral Tibet, Shabba Ranks and Ninjaman and 'I Got The Vibes' by the late Frankie Paul. The 40-track, 2 CD set comes complete with a bonus DVD telling the Bobby Digital story and gathers some of Bobby's best-ever productions from those heady times when specialist stores were awash with 7" singles, freshly arrived from Jamaica, and reggae music was once more on the rise.
Volume 2: "Serious Times" covers the other side of Bobby Digital's musical expertise which breathed new life into the roots reggae genre. Featuring titles by Garnett Silk, Sizzla and Morgan Heritage, this catalog helped restore Rasta music to its former glory during the mid-nineties. 'Every Man's Burden' by Jah Mali, released in 1998 was from his album 'Treasure Box', a defining project that underlined Bobby' s reputation for discovering and nurturing new talent. Shortly after in 1999, 'Don't Haffi Dread' by Morgan Heritage propelled the 5-piece band to major success, as the song was hailed as a major triumph and considered one of Bobby's best. Bobby also had an influential role in transitioning artists such as Capleton, Bounty Killer, Buju Banton and Shabba Ranks from dancehall to roots, which is witnessed in Buju Banton's 'Til I'm Laid To Rest' generating his reinvention as one of Jamaica's most cultural messengers. Bobby is also responsible for one of Shabba Ranks most popular roots rhythms, 'Heart of a Lion.' The 40 song anthology wouldn't be complete without legendary tracks 'Every Knee Shall Bow' by Garnett Silk, Cocoa Tea & Charlie Chaplin, the legendary 'Solid as a Rock' by Sizzla and more. Volume 2 features a 3rd bonus disc with a Heathen Chant Mega mix by Mixmaster Mighty Mike.
Earning his reputation as the Modern-Day Master of Jamaican Music, Bobby Digital has produced much of the music that has shaped today's influence of reggae and dancehall witnessed in mainstream music. A believer that good music is delivered from the heart, Bobby still releases the occasional batch of songs by artists like Kabaka Pyramid, Iba Mahr, Lymie Murray, Chezidek, Richie Spice and Richie Stephens confirming his place at the forefront of the genre in the digital age.
"Bobby Digital was a game changer in Jamaican music," said Christopher Chin, CEO of VP Records. "There is no better way to honor his vast musical legacy than during Reggae and Black History month. We hope this anthology series becomes an iconic favorite for music lovers everywhere."