Teflon Goes EDM With New Album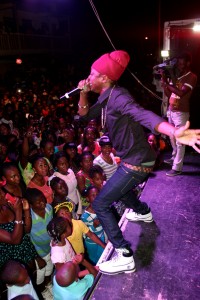 Electronic Dance Music, also known as EDM, is becoming increasingly popular among partygoers globally and has even found its way onto the shores of Jamaica. Despite Reggae and Dancehall being the dominant music of choice on the island; local socialites have been embracing the electronic genre especially at popular night spots and via programming offered by a number of radio jocks on various stations.
With this ongoing trend Reggae singer Teflon who is slated to release his sophomore album shortly refuses to be left out of the movement. The Rastafarian crooner who made a name for himself singing conscious ballads says he is all about taking his music to that next level.
"EDM is the new movement globally that is what the people are into, so if I can combine Reggae with Electronic Dance Music and get the message out why not do it. I am about spreading positive messages of righteousness and if this is a channel to assist in the process then I will explore that possibility."
Teflon says his album titled 'Next Dimension' will not be the typical Reggae compilation that everyone's expecting but will comprise of EDM among other genres all aimed at showcasing his growth and other dimensions as an artiste. He also echoed similar sentiments in a recent interview with Israeli publication Kaboom1.
"The musical environment in Jamaica is extremely competitive, where the strong survive and the weak fades. As an artiste I cannot be complacent if I want to remain relevant and conquer this business. So the onus is on every artiste to make a concerted effort to put in that extra effort where needed."
The benevolent crooner explains that music has no boundaries and should not be confined in a box, he says evolution is necessary if we intend to make positive strides, but remained steadfast that despite the fusion he will stay true to his principle of only making 'good music' regardless of the injection of new genres.
Currently, promoting the singles 'I'm Sure' and the collaborative effort 'Same Struggle' featuring Capleton, The 'Yard A Love' recording artiste and his management are working assiduously to raise his profile ahead of the album release. The album will be distributed by U.S based company New Millionaire Entertainment (NME). The deal sees them being the exclusive agent handling both digital and physical distribution for Teflon along with his marketing throughout the world for downloadable, mobile and video contents. The dissemination will be done in conjunction with Universal Records.