Super Producers Cool and Dre Host Private Event Tuesday September 20 from 6pm to 10pm Sponsored by Stoli Vodka and Seafood
Abebe Lewis, Cool & Dre, The Neala Group, TD the Tastemaker, & Hugo from Lex Promotions Present…
SUPER MUSIC DUO PRODUCER/SONGWRITER'S COOL & DRE HOST ARTIST PBGMIAMI'S PRIVATE LISTENING RELEASE PARTY FOR NEW SINGLE PAIDAH IN MIAMI
WHAT: Fort Myers new comer PBGMiami teamed up with super producer / songwriters Cool & Dre to create the single is Paidah. In release of this collaboration, a private listening affair will be held where the hits are made "Oasis Studios". The intimate mixer, attended by tastemakers, media, DJs and radio personal, will consist of catered seafood provided by Crab Trap 239 and beverages by Stoli. While beats fill the room, select individuals will be accompanied into studio A for a pre-release screening of what's in-store for PGBMiami.
WHO: PBGMiami (recording artist), Marcello "Cool" Antonio Valenzano (Cool of Cool & Dre) Andre "Dre" Christopher Lyon (Dre of Cool & Dre), Abebe Lewis (Owner of Circle House Studios) Tamar Clarke (Director of Career Services SAE Institute miami)
WHEN: Tuesday, September 20th, 2016 6:00-10:00PM
For exact location contact:
DJ's & Tastemakers e-mail : LiveMiami305@gmail.com
Press & Media : ng@thenealagroup.com
ABOUT PBGMIAMI
PBGMiami – Coming from the street of Fort Myers, Florida but migrating to Miami. PBG Miami is the next rapper coming from Southwest Florida. His current single is Paidah is produced by hit makers Cool and Dre the same pair that produced "All the Way Up" and "Chevy Ridin High". PBG Miami has worked with Manny Fresh, Piles, Kent Jones and reggae artist Red Rat. He has been featured in the Miami New Times as the artist to watch. 2016 is year to shine as Cool and Dre gets behind this next star.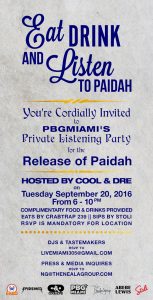 ABOUT COOL & DRE
Cool & Dre are two Miami music producers who came on the scene in 2001. They have work with the biggest names out right now. From Rick Ross and T.I. to Jeremiah and Ashanti.Their first production was King of NY in 2001 by Fat Joe off his album, "Jealous Ones Still Envy". Their latest production "All The Way Up" with Fat Joe and Remy Ma was the Summer anthem in 2016. The duo were behind familiar singles like on Hate it or Love it by The Game, Chillin by Wale and 100 Million by Birdman. They currently work closely with DJ Khaled with their artist Kent Jones who earned a gold for the hit single "Dont Mind". Now their next artist they are getting behind is PBG Miami. He has a single out right now called Paidah which is produced by Cool and Dre.