St. Maarten Carnival offers Caribbean Music Melting Pot
Phillipsburg, St. Maarten – The 2013 Dutch St. Maarten Carnival experience drew countless festival fans to the North Eastern Caribbean destination.
This year's edition was nothing short of vibrant with colourful parades, an onslaught of local cultural shows, pageants and international concerts which featured top rate entertainers from the Caribbean, North and Latin America.
This annual Carnival has been the island's largest cultural event for the past 43 years and is organized by the St. Maarten Carnival Development Foundation (SCDF).
The capital city of Phillipsburg, was the site of the main activity as hordes of festival newbies and Carnival veterans converged day and night in the major action hub known as the "Carnival Village".
In addition to a wide array of local and international cuisine (representing the island's many cultural and culinary influences) the St. Maarten Carnival Village, was the literal hotspot for all the major concerts and pageants during the Carnival period. These concerts showcased practically every musical genre inclusive of Soca, Latin, Zouk, Reggae, Dancehall, R&B and Hip-Hop.
Gracing this year's St. Maarten Carnival stage were performers the likes of R&B heartthrob Miguel, rapper Busta Rhymes, Latin star Daddy Yankee, Jamaican sensations Busy Signal and Konshens, Soca stars Nadia Batson and Tallpree and Dancehall Queen Lady Saw.
The most anticipated international performer for the 2013 St. Maarten Carnival season was none other than son of the legendary Bob Marley, Damian 'Junior Gong' Marley. Marley had the entire festival village crowd in the palm of his hands as he carried the eager audience through his catalogue of hit songs e.g. 'Affairs of the Heart', 'Road to Zion', 'Beautiful', 'In too Deep' and the ever popular 'Welcome to Jamrock'.
In the weeks leading up to the Carnival visitors to the village also had opportunities to enjoy other forms of entertainment such as Calypso Competitions, Youth and Teen Extravaganzas, Speech and Culture Wear Competitions and several Queen Pageants.
Also notable at this year's St. Maarten Carnival celebrations was the well attended J'ouvert festivities which set the pace for 2 days of exciting costumed revelry.
As per tradition, the end of St. Maarten's Carnival is marked with the symbolic burning of King Moumou, a straw-stuffed effigy who annually presides over the whole festive affair.
Costumed revelry on the streets of Phillipsburg.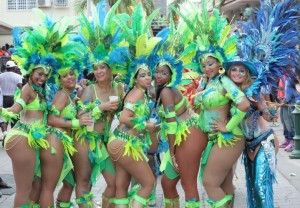 Damian 'Junior Gong' Marley sings to the St. Maarten Crowd.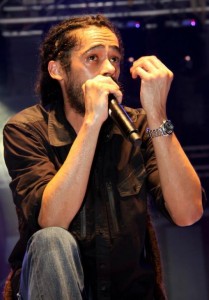 R&B singer Miguel croons at the St. Maarten Carnival village.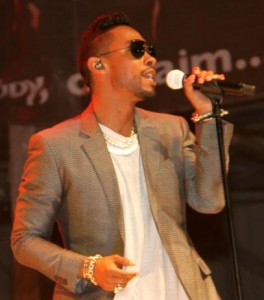 Dancehall icon Lady Saw shares a fun on-stage moment with a local attendee.