Soca Icon Super Blue Gives Exclusive Performance at Pre-Mother's Day Fete in Toronto!
Toronto will be the backdrop for Soca icon and star Super Blue who will perform at an exclusive pre-Mother's Day fete on Saturday May 12th, 2018 at the Tam Heather Curling Club, 730 Military Trail in Scarborough (a suburb of Toronto).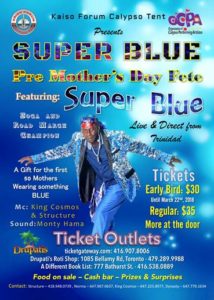 The Trinidad & Tobago native whose hit records include "Fantastic Friday," "Jab Molassie" and "Soca Baptist" shot the artist to national and international prominence.  His classic, "Rebecca," which was released in 1995, became an anthem in Soca circles, and is known as one of a hand few of classic songs that are played in Fete's today despite its' age.
This exclusive pre-Mother's Day Fete is produced by Kaiso Forum Calypso Tent in association with OCPA (Organization of Calypso Performing Artists) and is intended to give Soca lovers the perfect night out – Trini style!  About the upcoming performance, representative King Cosmos said "this year we thought it would be a good idea to put on a show with a Soca icon; who better than Super Blue?!"
In 2018, Super Blue teamed with Machel Montano to release the song "Soca Kingdom" which to date has earned 1.7 Million views on YouTube, and radio play in Canada, the U.S. and Germany.  As Soca's popularity reaches 3rd and 4th generation fandom, Super Blue is enjoying newer waves of fans.  Speaking to media in Toronto, the artist remarked "fans have no idea how much I love performing for them.  Toronto has a special place in my heart so the exclusive show on May 12th will be 'Fantastic!'"
Opening artists include Toronto's Soca Monarch Yellows, Delee, Calypso and Soca Monarch Connector and Palo (Chunkay de Dahl).  The nights' EMc's are King Cosmos and Structure with sound by Monty Hama.  The first 50 women will receive a special gift provided that they wear something blue!
Tickets are available at ticketgateway.com, Drupati's (1085 Bellamy Rd.), and A Different Book List (777 Bathurst Street).
About Kaiso Forum Calypso Tent:
Kaiso Forum is the premiere Calypso "tent" in Toronto.  It was founded fifteen years ago by Barbadian-born Bryan Thornhill.  It is popularly known in the Calypso as Structure.  Each year Kaiso Forum has brought fans some of the best in Canadian Calypso.  It is known as the home of the monarchs, since its roster has included calypso and soca monarchs such as Structure, King Cosmos, red Man, Connector and Yellows.  For 2018, Kaiso Forum will begin on June 16th.  Stay tuned for more!