Roots Reggae Artist Spiritual Returns to Western U.S.
Roots Reggae Artist Spiritual Returns to Western U.S.
Artist Embarks on the AWAKENING Tour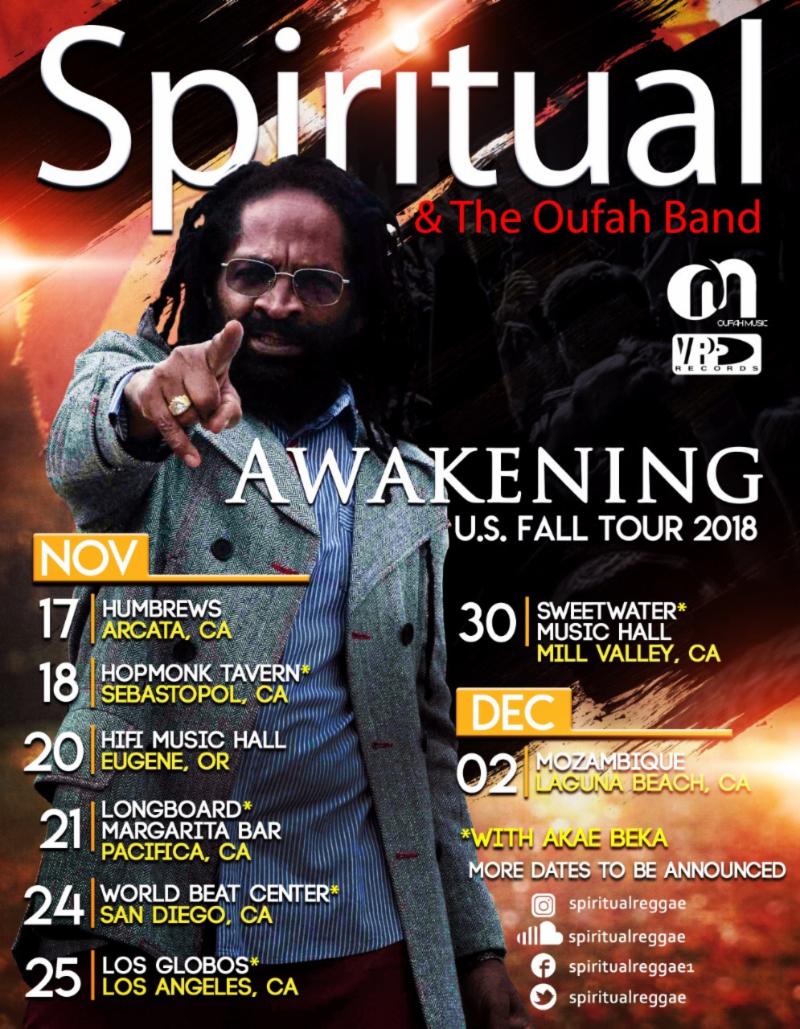 Los Angeles, CA- Reggae artist from Jamaica, Spiritual will perform a series of dates throughout California and Southern Oregon this month. Spiritual returns to the Western U.S. after his most recent appearance at the 2018 Sierra Nevada World Music Festival. Performing with the Oufah Band, Spiritual shares a co-bill on several dates with the band Akae Beka that includes lead singer Vaughn Benjamin formerly of Virgin Islands' roots reggae band Midnite. Spiritual will present conscious reggae music from his VP Records' 2017 14-song album release AWAKENING as well as recently released songs: "Children of the Revolution" and "Reggae Music".
Spiritual's music transports us to another time, when reggae legends like Bob Marley first took the rebel sound of Jamaica to a worldwide audience. Raised in the same ghetto communities of West Kingston as Marley, Spiritual was orphaned at an early age and helped to heal the broken society around him by counseling the poor and needy. Music was in his blood and he continued to write songs, but Rastafari was his true calling.
There are traces of Burning Spear and Culture in his voice as the songwriting and production values evoke an era when artists were judged on their integrity, both musical and otherwise. Spiritual lives by the same principles, and doesn't imitate. He writes original songs of meaning and depth, and then records them in a studio with "live" musicians, including horn and lead guitar players, percussionists and backing singers. Reggae music hasn't sounded like this for a generation – not since Jamaica "catch a fire" and "two sevens clash".
AWAKENING, Spiritual's 2017 debut album released on VP Records, was produced by chart -topping producer Clifton "Specialist" Dillon (OMI, Shabba Ranks) for his Oufah Music production label and is rooted in the analog recording techniques of authentic roots reggae. Received to critical acclaim, the artist's vocals deliver timeless messages rooted in the liberation of Africans both on the continent and in the Diaspora, the concerns of the poor and with the common thread being a call to humanity to work for positive change. Chanting over deep roots one-drop rhythms that echo the 1970's foundation of the genre, tracks are seasoned with horns, percussion and powerful harmonies.
Spiritual AWAKENING Tour Dates, Fall 2018
*denotes co-bill with Akae Beka
November 17              Humbrews                                                 Arcata, California
November 18              Hopmonk                                                  Sebastopol, California *
November 20              Hi-Fi Lounge                                            Eugene, Oregon
November 21              Longboard Margarita Bar                        Pacifica, California *
November 24              World Beat Center                                   San Diego, California *
November 25              Los Globos                                              Los Angeles, California *
November 30              Sweetwater Music Hall                            Mill Valley, California *
December 2                Mozambique                                             Laguna Beach, California