Reggae Artist Mackeehan Leaves New York City Mesmorized
On Saturday March 17th, reggae artist Mackeehan, co-headlined Tempo Networks, Love Her concert in Harlem New York. Backed by JedI band, Mackeehan rocked the crowd of music enthusiasts from beginning to end, gaining him new fans after his performance.
Opening his set with his single "You're the One", Mackeehan immediately grabbed the attention of the audience as they hung onto every single word he sung. "I was shocked to hear such warm melodic tones as he started his performance and the message in some of his songs. One of them real Reggae artist, I enjoyed every moment of his performance" says Jasmine Hewitt of New Jersey.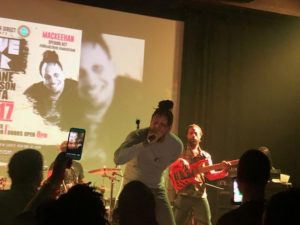 As the show went on Mackeehan would receive one of the biggest response for the night for his song "Miss You Bad", which had the audience singing along and requesting and encore. The synergy with the band and Mackeehan made his performance a great showcase for many who were seeing him for the first time.
Mackeehan arrived in New York a few days prior to his performance and completed several interviews at various media outlets including Irie Jam Radio, BLZ-Free Up Radio program and Face View TV just to name a few.
"The reception from the crowd was great, it's always good to perform for an audience who enjoy your performance and is receptive to your music" says Mackeehan.
Closing out his performance with his popular single "Murder", Mackeehan left the stage gaining new fans. Mackeehan, who is currently promoting his single 'Senorita' and 'Legal to Kill', is looking forward to some more shows in the upcoming months.