Orisha Sound Releases New Reggae Album, 1 Reggae
Orisha Sound's Sexy Rocksteady on New Album,
1 Reggae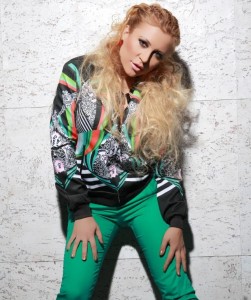 Jamaica's Reggae Princess Drops Powerful New Album
Kingston, Jamaica – 2014 has been a busy year for reggae-pop artist Orisha Sound. The Jamaica-based beauty has released singles such as "One More Night", "Gimmi The Beat", and collaborated with the industry best like Sizzla Kalonji, Beenie Man and many more. They all appear on her new album 1 Reggae which is currently available on iTunes.
1 Reggae is less of a sophomore release and more of a refined selection of Orisha Sound's music. The album follows her 2013 break-out release, Cupid, cataloguing several tracks from Cupid in a context that is distinctly more reggae. Recording her entire album in Jamaica, 1 Reggae opens with the ska track, "Rollercoaster", setting the tone for the rest of the album, the track shifts gears to a funkier and more ska take. The following track, "One More Night", is a fresh taste of old-school dancehall and live instrumentals. "Gimmi The Beat" demonstrates Orisha's humanitarian concerns, which are important in understanding her artistic vision. The song is deceptively smooth as the relaxing beat contrasts the severity of the issues, like human trafficking in Africa, war in Ukraine and unjust acts in Jamaica. The call and response with Anthony Que in "Best of My Love" stays true to the style of traditional rocksteady reggae. The remix of "Embrace It" strays the least from its predecessor with a harder beat that is best suited for a nightclub. The last two tracks on 1 Reggae both merge Orisha's reggae with dance pop are as sexy as they catchy. "World War Three" featuring Beenie Man does not shy away from it's a intimate undertones with a beat that will lead you straight to the dance floor. The last track "Own Ya" fuses Orisha's reggae roots into a pop jam seamlessly. As Orisha puts it, "Politics, love, emotions, world events – things I've been through the last year – its all put in the sound form in 1 Reggae." Orisha has put her blood, sweat and tears into this latest release as her passion for reggae rings solidly throughout.
Orisha's lifelong dream of performing music began at the age of four, when she made music a priority in her life. Spending all her free time studying violin, piano, singing and guitar prove how serious she's always been about music. She would go on to tour both Europe and the United States at age nine. This child prodigy would grow up to collaborate both onstage and in studio with acts such as Stevie Wonder, Stanley Clarke, Anthony Hamilton, Flo Rida, Bone Thugs N Harmony, Sizzla, Sly & Robbie, and many others. Citing influences from electronic, dance, alternative, hip-hop and world music, it is no surprise that Orisha's produced such eclectic music. Her wanderlust and love for traveling have always inspired her work and continues to. "I don't stay in one place – I move a lot – enjoying the beat of the streets and the studios of LA, Moscow, Kingston, London, Paris, NY…It's all about the people and their love, hate, sex, faith, and struggle," Orisha explains. "I really encourage people who love music to go and stream it (1 Reggae) or buy it – hear it for themselves. You will love it – it will take you somewhere else you never been before. It does it to me."