On 2 Stellar Nights, Reggae Star Omari Banks Takes to the Stage of Moonsplash 2015
On 2 Stellar Nights, Reggae Star Omari Banks Takes to the Stage of Moonsplash 2015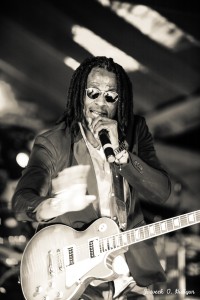 On 2 stellar nights under the starry sky of the beautiful island of Anguilla, reggae star Omari Banks took to the familiar welcoming stage of Moonsplash 2015 at The Dune Preserve.
This year marked the 25th anniversary for the the longest running independent music festival in the Eastern Caribbean which has become a top showcase for vintage reggae acts and emerging talent. Omari first hit the Moonsplash stage as a young child alongside the festival creator, his father the legendary Bankie Banx, but on the 25th anniversary, Omari took the stage on night 1, the international night as the bonfaide reggae star he has become.
Omari gave patrons an hour of pure musical delight by belting such hits as "Move On", "Jehovah Message" with his cousin Lateef Banks", "Still the Youth You Blame", "Run Around", "Oh Africa", "Bruised Inside", "Unafraid", "We've Seen It All" joined by his father Bankie and to the delight of the crowd, "Prince of Darkness" the father, son favorite collaboration. Omari was also joined on stage by local rapper Raskim Browne to perform his blockbuster hit single "No Point To Prove".
Third World's band member Cat Coore called on Omari to joined them onstage to perform "No Point to Prove," An extraordinary and much successful Moonsplash by all accounts, Omari reflects "Moonsplash 25 was epic, it will go down as one of the best Moonsplash on record. I am overjoyed about it alll, it was fitting for this momentous occasion. I know my Dad and the entire family working Infront and behind the scenes is very happy. I enjoyed every second!"