NYC Media Alert ( W. Jul 13) –  Raging Fyah, "Most Promising Acts" (Billboard), Headlines Brookyln Bowl
Raging Fyah, one of the fastest rising roots reggae artists from Jamaica, just released their third studio album entitled Everlasting on the Dub Rockers imprint. The five-piece Kingston collective recently toured the U.S. with Stick Figure winning over new fans with AXS stating, "Raging Fyah is now poised for a significant impact upon America's vast reggae landscape" and commenting about their live show "…the band never lost touch with the audience throughout the entire performance."
Listen to select music from the album, including title track "Everlasting," "Ready For Love," and "Live Your Life" feat. J Boog & Busy Signal.
The band is performing at the 7th annual California Roots Music & Arts Festival on Sunday, May 29 before heading out for their European tour.  Then Raging Fyah will return to the U.S. in July with twenty dates throughout the east coast, midwest, and west coast with key headlining shows and a supporting slot with Jamaican roots revivalist Protoje on select dates.
Most of Raging Fyah's members met at Edna Manley College of Visual & Performing Arts in Kingston before officially forming in 2006. The band consists of Kumar Bent (lead singer), Courtland White (guitarist) Anthony Watson (drummer), Demar Gayle (keyboardist) and Delroy "Pele" Hamilton (bassist) – carries the tradition of the island's enduring roots rock reggae spirit with an expansive vision and fresh contemporary flare.
The band's live show captures their recordings, but also brings a new energy to each performance.  Kumar states, "Our sets on this tour will feature songs from Everlasting mixed with some of our classics.  Every night feels special because we feed off the energy from the crowd to create unique elements for each show."

U.S. Tour Dates:
w/ Protoje
Jul 11 in Washington, DC @ Jammin Java
Jul 12 in Boston, MA @ Brighton Music Hall
Jul 13 in Brooklyn, NY @ Brooklyn Bowl
Jul 14 in Wakefield, RI @ Ocean Mist
Jul 15 in Philadelphia, PA @ Coda
Jul 17 in Cleveland, OH @ Beachland Tavern
Jul 18 in Chicago, IL @ Reggie's Rock Club
Jul 19 in Omaha, NE @ Waiting Room
Jul 20 in Minneapolis, MN @ 7th St. Entry
Jul 22 in Bellevue, CO @ Mishiwaka Amphitheatre
Jul 23 in Boulder, CO @ Fox Theatre
Jul 24 in Taos, NM @ Taos Brewery
Jul 26 in Phoenix, AZ @ Crescent
Jul 28 in Santa Monica, CA @ The Pier
Jul 29 in Los Angeles, CA @ The Regent
Jul 30 in Las Vegas, NV @ Brooklyn Bowl
Jul 31 in Santa Barbara, CA @ Velvet Jones
Aug 2 in Santa Cruz, CA @ The Catalyst
Aug 3 in Petaluma, CA @ Mystic Theatre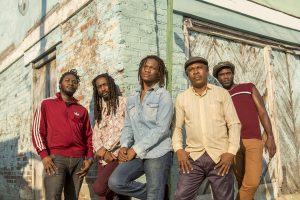 RAGING FYAH'S NEW ALBUM 'EVERLASTING' OUT NOW
BAND ANNOUNCES U.S. SUMMER TOUR DATES 
Headlining & Supporting Dates with Protoje Kicking Off July 11
"…most promising acts…their revolutionary spirit evoking the late Peter Tosh or Steel Pulse circa the late 1970s"   – BILLBOARD
"whole crowd was drawn to its feet in a visible wave, like fallen dominoes getting up again." (in regards to their 2015 Rebel Salute performance)  -VOGUE
" poised for a significant impact upon America's vast reggae landscape"  -AXS