Out A Streets is a movie based on circumstances as the driving force into a life that an inner city youth never wanted; And now he is in the wrong place with bad company and is about to learn the hard way what life is "Out A Street".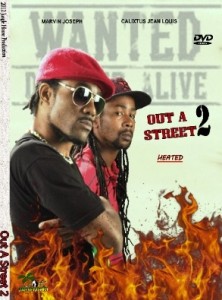 The viewer is advised to approach this DVD in an amateuristic perspective realizing that there are some imperfections. These should be viewed as being of minor consequence in view of the considerable lengths that young budding films makers with no funding went through to produce of this project.
Based on the struggles of ghetto youths in the inna city of Castries St.Lucia. Outta Streets depicts an Action, Love, Mystery, Thriller, Suspence entailed clips which captures the true essence of the lower class trying to make good of their situations but are continuosly bombarded by life's ups & downs.
After Surviving a deadly shooting, Murdering returns to the streets in the sequel "Outta Street 2". A series of unexpected event forces him to turn to his friend Banton for support; Together Murdering & Banton finds out that revenge is not always easy as it seems.