New Album (Oct 28) – Etana – I Rise
ETANA RELEASES FOURTH STUDIO ALBUM I RISE
AVAILABLE OCTOBER 28 ON VP RECORDS
Helmed by Legendary Reggae Producer Clive Hunt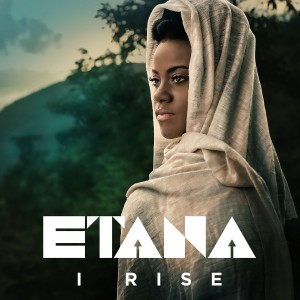 Etana is happy to announce the release of her brand new album I Rise, available Oct 28, 2014 on VP Records. The beautifully-orchestrated set is helmed by the legendary Jamaican multi-instrumentalist and producer Clive Hunt, whose credits include Byron Lee & The Dragonaires, Chaka Khan, Stevie Wonder, Peter Tosh, Rolling Stones, The Wailers, Grace Jones, Jimmy Cliff and many more. Clive arranged an all-star team of the island's musicians to contribute to the set – including himself, Sly Dunbar, Robbie Shakespeare, Grub Cooper, Handel Tucker, and Dean Fraser. The Jamaican singer-songwriter's melodic power blended with Clive's rich arrangements sets this album apart as one of the best throughout her stellar career.
Etana carries the torch as reggae's leading lady with this classic collection of love ballads and roots anthems. With her poised assurance and newfound strength, she evolves spiritually, mentally, emotionally and musically. Whether she shedding light on the harsh ghetto realities on "Trigger," "Ward 21 (Stenna's Song)" and "How Long," conveying romantic longings on "Richest Girl," "Love Song," and "By Your Side" or expressing her deep-rooted spirituality on the exquisite Bob Marley remake of "Selassie Is The Chapel," the Marcia Griffith's cover of "Stepping Out Of Babylon" "Emancipation" and "On My Way" – each of the album's tracks is delivered with her soulful conviction.
Watch video for the album cut "Trigger":
I Rise follows Etana's criticially-acclaimed albums Better Tomorrow (2013), Free Expressions (2011) and The Strong One (2008). Better Tomorrow was hailed by BBC as her "most seamless album to date and finest piece of songwriting yet" and Associated Press called it "mature and confident sound with top-notch lyrical content and unique vocals." Free Expressions won praise from NPR for being "a rarity: music that sermonizes, yet still sweetly serenades," while Essence raved that her debut The Strong One exuded "poetic consciousness amid soul-stirring grooves rivals that of gifted neo-soulsters." Etana's I Rise is poised for equal success and will inspire, liberate and uplift a new generation.
Etana's I Rise – Track Listing:
1. Selassie is the Chapel
2. How Long
3. On My Way
4. Stepping Out Of Babylon
5. Jamaica Woman
6. I Rise
7. Richest Girl
8. Love Song
9. By Your Side
10. Passing Thru
11. Trigger
12. Ward 21 (Stenna's Song)
13. Emancipation
14. Jah Jah
15. Jam Credits