LMB Designs hit the Guianas
LBM DESIGNS DAZZLE THE FASHION WEEKS IN THE GUIANAS!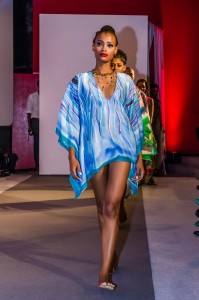 Lyn Bristol of LBM Designs, St. Lucia, has returned from the Guianas where she showcased her resort wear line, both in "Guyane Fashion Week" and "Suriname Fashion Week" 2014.
She first went to Cayenne (French Guiana) attending the 'Guyane Fashion Week 2014'. This budding designer was the specially invited by producer, Jean René Pologne with all expenses paid. She was enthralled to also meet with fellow friend and supporter St. Lucian, Vincent Mc Doom who was also a special invited guest to this event.
While in Cayenne, Lyn participated in all three fashion nights held in various venues and was well received on each of the nights. She had the pleasurable experience to network with fellow designers from Martinique, Paris and French African countries, also models and photographers of Cayenne. Her designs were also used in a fashion shoot which was staged around the city of Cayennne.
One of the highlights of her trip to Cayenne, was when she accompanied Mr. Mc Doom to the Lycée Melkior Garré which boasts a fashion and style department. She was honored to meet and be in the presence of the President of French Guiana who led the entourage on the visit alongside Alphadi a.k.a. 'Magician of the Desert', the top fashion designer of Niger, Africa. At the Lycée Melkior Garré the President addressed the students on the importance of their school in the French Departments including the Caribbean Region. Addresses were also made by Vincent McDoom and Alphadi and Lyn Bristol was also invited to give a short speech to the gathering.
After this impressive stint in French Guiana, it was off to Paramaribo, Suriname (Dutch Guiana) for 'Suriname Fashion Week' where the actual fashion shows were held for three nights at the Wyndham Hotel and one night at the Ramada Rooftop Inn.
Suriname featured designers of clothing, jewelery and accessories not only from Suriname, but also from Cayenne, South Africa, Holland, Martinique and LBM Designs being the only one from St Lucia. Suriname Fashion Week was far more hectic than Cayenne, in that there were more designers and models to cope with. Similarly to the 'Guyane Fashion Week', her garments were chosen for a fashion shoot at an outdoor, historical museum.
As was with Cayenne, Lyn networked with Surinamese and international fashion designers, photographers, and models. From this experience, two designers have commissioned Lyn to hand paint their fabrics for their collections; she has been invited back to Suriname and Cayenne next year to attend their fashion weeks. Both models and designers alike have expressed an interest to visit Saint Lucia to explore the fashion scene after interacting with Lyn Bristol of LBM Designs who was an ambassador for her country.
Lyn takes this opportunity to thank the following persons for their assistance in making it possible to attend these two important fashion events: her mother, J E Bergasse & Company Limited, and Adrian Augier; for media coverage, Jackie Cherebin-Weekes, Sharon Williams-Black and Stan Bishop (in their own rights). Included are, from Cayenne, Mr Jean René 'JR'Pologne; her Surinamese counterparts, of Suriname Fashion Week : Warda Marica (executive producer and jeweler), Helio Phoeli (producer and photographer), and Charelle Meyers (assistant producer).