LATIN SOCA CROSSOVER STAR MR. RENZO DEBUTS MUSIC WORLDWIDE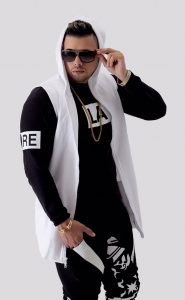 New York, NY (FOX FUSE) – Latin soca crossover star Mr. Renzo sees the debut of all his official music videos on VEVO, including the brand-new red-hot video for "Drop Dat," which joins "Colita (Remix)" featuring Neniita and Charly Black, and "Colita" featuring Neniita, all from FOX FUSE. Inking an exclusive digital distribution deal with FOX FUSE – the world's largest digital label for soca and chutney music, Mr. Renzo's catalog of music and videos are now available worldwide from all major digital retailers.
Born Lawrence Adams in Bolívar, Venezuela, this exciting and eclectic singer and songwriter relocated to Trinidad and Tobago as a child, and has been performing since the age of eight, before professionally launching his international career at 21. His diverse heritage translates into his music today, as he nurtures an unprecedented legacy of Spanish-Caribbean fusion, mixing tropical and salsa music with soca, calypso, dancehall and EDM, to create his own unique, international sound.
"Following the successes of my recent songs such as 'Bend Ya Back,' 'Jiggle,' 'Colita (Remix)' and 'Colita,' I'm thrilled to debut 'Drop Dat' on VEVO and share it with fans internationally," reveals Mr. Renzo. "This brand new video for 'Drop Dat' has been creating some buzz in the UK market already, and now its official launch on my VEVO channel takes it to the next level, worldwide." The provocative video for "Drop Dat" was filmed on location in Trinidad and was directed by Jameel Bellerand. The steamy track was produced by Anson Soverall for Forward Movement Music Group (now Anson Productions), and is also available worldwide from FOX FUSE.
"Right now our plan is to continue promoting my music in the Latin market, especially after seeing the success of Charly Black, Sean Paul and Shaggy opening the doors for Caribbean music in the Latin circle," Mr. Renzo adds. "The people in the Latin community are very open to my style, which is being a Latin soca crossover artist. We received an amazing response in Colombia from my recent three-month tour there, and we plan to continue to market my music in other Latin countries, in the coming months." This consistent approach of fusing flavors to satisfy a kaleidoscope of genres and tastes proves Mr Renzo's international appeal, thereby guaranteeing his music its rightful place – within the ears of fans, globally.
For more information on Mr. Renzo, visit MrRenzo.com and follow his daily moves at Facebook.com/MrRenzoMusic. Twitter.com/MrRenzoMusic, Instagram.com/MrRenzoMusic and YouTube.com/MrRenzoVEVO. Please direct all media inquiries to the FOX FUSE Publicity Department at 1-212-300-3813 or contact@foxfuse.com.