JACKIE O. LAUNCHES MISCELLANEA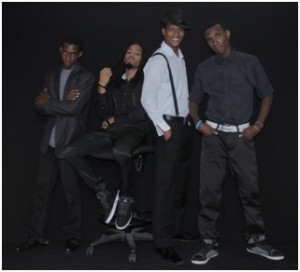 Castries, Saint Lucia – On the brink of Saint Lucia's 35th anniversary of Independence, Jackie O presents 'MISCELLANEA'! As described by their name, the new group miscellaneA is a group of young men with varying talents in their own right. This group includes Alex 'Sawlty' Klien, Adrian 'Drii Notes' Klien, Arnold 'AJ' Jules and Stephen Dantes. After working with each of them individually and recognizing their talents, Jackie Cherebin-Weekes of Jackie O. had a vision of them combining their talents to create a distinctive sound. She encouraged them to come together and the first meeting was explosive as they instantly hit it off. Since then, they have been working assiduously on creating musical sound beds and lyrics of spoken word, poetry and song.
After three weeks of creating, their first single 'Freedom Voices' was recorded at FourYa Studios with Producer, Werner 'Semi' Francis. This track was written with the 35th Anniversary of Saint Lucia in mind. 'Freedom Voices' suggests freedom from slavery, freedom from mental and spiritual boundaries, life's challenges and giving inspiration for a unified way forward. miscellaneA hopes to make an impact at this patriotic time to reflect the Independence theme "In Unity and Dedication for the Good of the Nation."
These versatile and talented artistes, pride themselves on writing, composing and arranging their own music and together blending poetry, spoken word, rap and hip hop. Their short term goals include a video production of their track 'Freedom Voices' and to continue working on new material to perform at the 2014 Saint Lucia Jazz & Arts Festival.
Jackie O. envisions miscellanea as a group that will inspire the younger generation and act as role models for those that aspire to partake in the arts.