Caribana™ Arts Group elects a new Board for 2012-2015
On Saturday, January 12th, 2013, the membership of Caribana™ Arts Group (CAG) held its Annual General Meeting where it elected six, new, member-elected Board of Directors for 2012-2015. These directors met and decided on the following positions:
George "Knia" Singh Chair
Marcia Walcott Vice Chair
Roan Lawson Secretary
Alicia Sealey Treasurer
Chair – Public Relations & Communications Committee
Relinda Parsons Assistant Secretary/Treasurer
Kathleen Daniel Chair – Marketing & Fundraising Committee
In the weeks ahead, this board will be adding other appointed board directors. These appointed board directors will be formally introduced to CAG's membership at its next General Membership meeting scheduled for March 30th, 2013.
This in-coming 2012-2015 board is avidly working on a list of (i) returning annual events plus (ii) new undertakings for 2013. To keep abreast with CAG and its activities, please check its official website at www.caribana.com. It will be the official outlet for all of CAG's ongoing activities.
CARIBANA™ ARTS GROUP (CAG) is a member-based, volunteer organization vested in developing its communities through Caribbean Carnival Arts Culture through education. It is a social organization that welcomes all ages, ethnicities and nationalities. Membership fees are $25/per person/per annum. Concurrently, CAG endeavours to explore any and all options – local, national, international, social and commercial – that advance and benefit the Caribbean Carnival Arts under its trade-marked, brand name CARIBANA.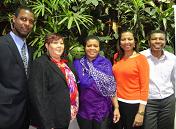 Photo Caption:
Caribana™ Arts Group's 2012-2015, member-elected Board of Directors. (L-R): George "Knia" Singh, Marcia Walcott, Kathleen Daniel, Alicia Sealey, and Roan Lawson. Absent: Relinda Parsons.
Quick "Identity" Facts about CAG's 2012-2015 Board of Directors:
George "Knia" Singh: Born: Toronto , ON, Canada Heritage: Bermuda & Guyana
Marcia Walcott: Born: Trinidad Heritage: Trinidad & Tobago
Kathleen Daniel: Born: Trinidad Heritage: Trinidad & Tobago
Alicia Sealey: Born: Vancouver, BC, Canada Heritage: Trinidad & Tobago
Roan Lawson: Born: Jamaica Heritage: Jamaica
Relinda Parsons: Born: Trinidad Heritage: Trinidad & Tobago