Atlanta confirmed as first international stop for Bahamas Junkanoo Carnival
Atlanta confirmed as first international stop for Bahamas Junkanoo Carnival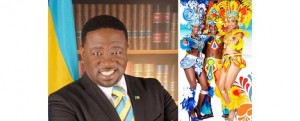 (Atlanta, Georgia)… Atlanta will be the first North American city to feel the spirit of Junkanoo Carnival when The Commonwealth of The Bahamas presents its latest cultural enterprise abroad.
Cultural Affairs Attache`, Robert Pinder confirmed that the team at the Bahamas Consul General's Office in Atlanta is working to ensure attendees at the Atlanta launch set for October 8, 2014, receive a "taste of The Bahamas" for a few days. Enough of a taste, he hopes, will prompt them to attend Junkanoo Carnival in The Bahamas in May 2015.
"We are working directly with Bahamas National Festival Commission to ensure that when the delegates arrive from The Bahamas, we have everything in place and our media blitz in full swing," Pinder stated. "They will be here for a few days and we are utilizing our strategic networking partners to present The Bahamas and its culture directly to Atlanta."
"The concept of Carnival is not new to Atlanta," he added. "In fact, this year, there were two Carnival events on the same day and throughout the year, there are multiple venues that feature masqueraders, stilt walkers and more. However, there is absolutely nothing in the world like the authentic Junkanoo experience complete with the sights, sounds and atmosphere of The Bahamas."
According to Pinder, the signature event will feature Bahamian Junkanoo Carnival masqueraders, Bahamian cuisine prepared by an Atlanta-based Bahamian chef, Bahamian music and more.