ALBOROSIE RETURNS WITH "UNBREAKABLE"
The new studio album from international reggae star Alborosie, titled Unbreakable – Alborosie Meets The Wailers United is slated for release tomorrow, June 29th.
Enlisting The Wailers United (former members of Bob Ma rley and The Wailers with the addition of Aston Barrett Jr.) for instrumental backing, the album upholds the tradition of roots- rock-reggae. One strong standout track is the powerful reggae interpretation of 1991 Metallica rock ballad "The Unforgiven" featuring Raging Fyah. Taken from self titled breakthrough album (Metallica), the song adds a new edge to the album that addresses contemporary issues with a thoroughly modern feel while still honoring traditional reggae sounds. See more information here.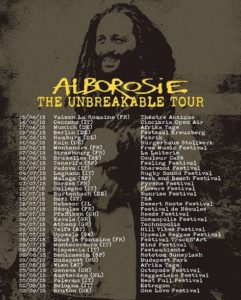 Alborosie is a singer, songwriter, multi-instrumentalist, producer, engineer and a dynamic talent in the contemporary reggae scene. "Unbreakable" is his ninth album for the Greensleeves label, following his last release "Freedom in Dub" in 2017. "Unbreakable" gets its roots from reggae's great history and points toward a future vision of the music with the sonic prowess that has become synonymous with Alborosie productions.
The first single, "Contradiction" featuring Chronixx serves as the perfect introduction to the project. Self-produced and written by Alborosie who comments, "the song delivers a message to the people and the youths about everyday life and the social and political climate we are currently living in." Other artists featured on the album are hit makers Beres Hammond, Jah Cure, and J Boog.
"Alborosie continues to expand his creative vision," said Christopher Chin, CEO of VP Records. "This album looks to be his best yet and we are very excited about the release."
On the cusp of an extensive European tour, music a video for "Contradiction featuring Chronixx" is in production with more videos and performances to be confirmed.